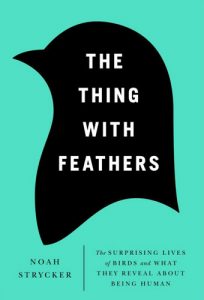 THE THING WITH FEATHERS: The Surprising Lives of Birds and What They Reveal About Being Human
Riverhead Books 2014; 304 pages. Pen-and-ink illustrations throughout.
Birds are highly intelligent animals, yet their intelligence is dramatically different from our own and has been little understood. As scientists come to understand more about the secrets of bird life, they are unlocking fascinating insights into memory, game theory, and the nature of intelligence itself.
The Thing with Feathers reached the New York Times bestseller list in paperback and has been well-reviewed by People magazine, The Economist, Newsweek, NPR, the journal Nature, and many others. It has also been translated into several languages.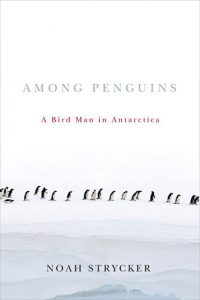 AMONG PENGUINS: A Bird Man in Antarctica
Oregon State University Press 2011; 224 pages. Insert section of color photographs.
At 22, just after graduating college, Noah was dropped by helicopter in a remote Antarctic field camp with two other bird scientists and a three-month supply of frozen food. His subjects: More than a quarter million penguins.
Among Penguins, Noah's first book, is an entertaining account of life below zero, illustrated with 16 pages of color photos.