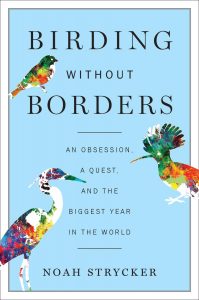 BIRDING WITHOUT BORDERS: An Obsession, a Quest, and the Biggest Year in the World
Houghton Mifflin Harcourt 2017. Insert section of color photographs.
In 2015, Noah birded for 365 days in a continuous journey that took him to more than 40 countries around the world. Sleeping on sofas, in trains and buses and, now and then, in luxury hotels, he met local birders on every continent, was up before dawn almost every day birding, and set a world record by seeing 6,042 different species in a single calendar year.
Follow along on Noah's biggest Big Year of birding in Birding Without Borders, which will be published by Houghton Mifflin Harcourt in fall 2017.