Noah hiked the 2,665-mile Pacific Crest Trail between May 19 and September 18, 2011.
These are his daily notes, from beginning to end.
---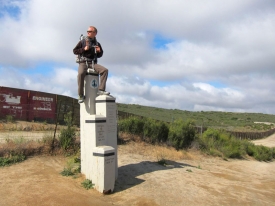 19 May, 2011: Day 1: The First 20 Miles
At nine this morning my dad and I stood at the Pacific Crest Trail monument along the Mexican border, all alone except for two Border Patrol vehicles, a helicopter overhead, and a Sage Sparrow perched on the gigantic fence (head in one nation, tail in the other). After a couple photos and well-wishes, I hefted my pack and walked north, alone.
Alone, that is, except for a ton of birds, two snakes, and two girls I unexpectedly caught on a switchback who were beginning a three-month trek before resuming college in the fall ("Just as far as we can make it, like all of California would be cool"). The weather is beautiful, my legs are stretching out, and my dad was nice enough to meet me at a campground tonight 20.6 miles in; he'll be sticking around for a few days to watch over me before heading home to Oregon. A poorwill is calling – it's good to be on the trail.
---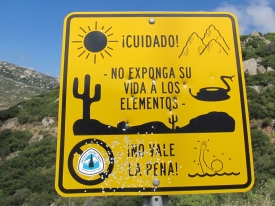 20 May, 2011: Day 2: Tough But Satisfying
I had to haul myself 23 miles and up 3,000 feet today to reach an enticing goal: a room at the Mount Laguna Lodge, where I'm spending tonight in style with my dad – a bed, bath, and burger for dinner! Most days, I'll be sleeping in my tiny tent by the trail, but a few towns offer more deluxe amenities along the way, so best to take advantage when possible.
This gives me a chance to clean up and take stock after my first two days (43 miles). I'm a little raw around the edges – sore, chafed, and sunburned – but nothing of real concern yet. Still haven't run into another hiker going all the way, though I did pass a five-man fire engine crew today, complete with yellow hard hats! Most thru-hikers started almost three weeks ago, so I've got some catching up to do… Meanwhile, looking forward to sunny weather the rest of this week.
---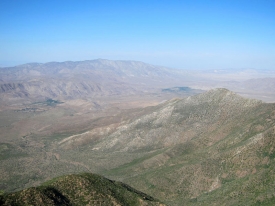 21 May, 2011: Day 3: Back to the Desert
I eased off to a late start this morning after a stack of blueberry pancakes in Mount Laguna (per the waitress: "you want to lick the plate?"). I have one more rendezvous with my dad at Warner Springs, 68 miles farther on, in four days. That means the pressure's off, so I can take the rest of this week a bit easier as I get used to the trail, and I spent this afternoon meandering 12.9 miles along a spectacular rim overlooking the Mojave desert.
Good thing, because my pack this morning weighed in at 35 pounds with four days of food and four liters of water. That's probably about as heavy as it's going to get this summer.
After chatting with a dirtbiker named Montana and a guy watering a tree planted on his best friend's ashes, I set camp on a beautiful boulder field looking north across the mountains. Apparently some people believe the world will end today; maybe it's an evening apocalypse? In that case, I'm going out with a sachet of reconstituted noodles and chicken. Yum.
---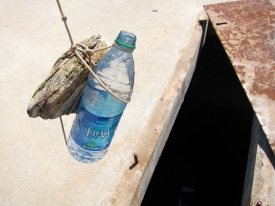 22 May, 2011: Day 4: Unforgiving Desert
By far my hardest day yet. The trail twisted through barren foothills inside the massive Anza-Borrego State Park, winding and roller-coasting ever deeper into unrelenting desert. I didn't see another person or even a tree until mid-afternoon, by which time the baking sun was like a sledgehammer dangling above my morale; the hammer fell somewhere during a seven-mile stretch of incomprehensible climbs and descents, and I spent the rest of the afternoon in a very dark mood.
I think that this trip is much tougher mentally than physically, especially doing it alone. My dad met me at day's end and we're staying at a nearby motel in Borrego Springs, which helps (he'll stick around to meet me in Warner Springs day after tomorrow). And I put in 21 hard miles today – hope they get easier as I roll north!
---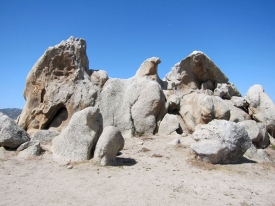 24 May, 2011: Day 6: 100 Miles Down
I spent most of the last two days contouring through the San Felipe Hills, a 24-mile section of windy, steep, and rocky desert with no water. The wind was strong enough to blow another hiker's sun visor off his head and over a cliff (never to be seen again), my snot kept whipping up on my sunglasses, and I spent an interesting night holed up at the entrance of an old mine shaft for shelter. But the trail was relatively straightforward, and I hiked for a while in the company of three Canadian guys before sprinting (stopping briefly to admire the aptly-named Eagle Rock) toward Warner Springs Ranch, where I'll lounge the rest of this afternoon in an adobe cabin and hot springs. The luxury!
So, I've now hiked 109.6 miles in my first six days, and finished Section A of the trail, necessitating a new set of maps. Bring it on.
---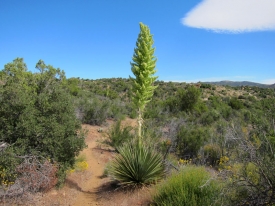 25 May, 2011: Day 7: Day Seven Drama
After breakfast in Warner Springs, I started hiking late and said goodbye to my dad, who has met me at several points after seeing me off one week ago. He's got a long drive back to Oregon, and I've got an even longer walk to Canada.
Today's 19 miles were uneventful except for a crazy encounter in late afternoon. Obeying a spray-painted sign saying "trail angel 1/4 mile," I dutifully went off-trail in search of water and camaraderie (angels are regular people who, out of the kindness of their hearts, help out long-distance hikers). Turned out the angel wasn't home, but three house-sitters offered to cook a steak dinner anyway, so I hung out with another hiker while the meat simmered. Suddenly two of the house-sitters burst into the kitchen, one armed with a screwdriver and the other with a knife, swearing at each other at the top of their lungs. Before any of the rest of us could stop them, they ran outside, where one proceeded to beat the daylights out of the other with a baseball bat. A hiker volunteered to drive the guy to the hospital, and I walked back to the trail.
---
After some quick calculations this morning, I realized it would be possible to make it to a famed burger joint, the Paradise Cafe, just in time for dinner. It took a 25-mile day through the desert, including 2 miles off-trail, but I just arrived along with another hiker, Adam, who has been keeping pace the last couple days. A root beer float tastes awesome after 25 miles in the sun, and the burger is ordered!
It looks like the next couple days will be spent at higher elevation, so maybe I'll get a change of scenery. And maybe I'll at last get out of the wind; it was really whipping all day today. Anyway, 150 miles down!
---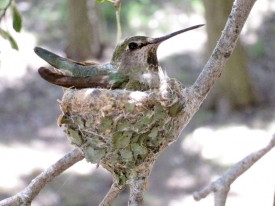 27 May, 2011: Day 9: Up and Up
I started the morning in desert chaparral at 4900′ and ended near snowdrifts at 8250′. Add in an extra couple thousand feet up and down, including a bonus two miles down a spur trail to get water, and I ended up hiking 25.7 miles with about five thousand feet of elevation gain today – yikes!
Even if the trail was steep in places, the scenery surpassed anything I've seen so far. After 150 miles through the desert, I was psyched to climb up into the San Jacinto Wilderness with its shaded slopes of pine and fir stands, and cliffs so sheer the trail had to be blasted out of solid rock in some sections. As evening approached, I wound up a dramatic ridgeline, leapfrogging with a couple other hikers, looking down on Palm Springs as if from an airplane. Very cool.
---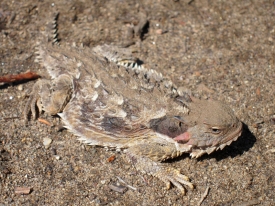 28 May, 2011: Day 10: Wind and Snowdrifts
40 mph winds had me wide awake at 3am this morning, and by dawn had scattered my stuff all over my campsite – even my pack had been blown 30 feet from where I set it down. Tonight is no different; if anything, the wind is even stronger!
I spent the day hauling myself over the flank of Mount San Jacinto, at one point over 9000 feet, with a side trip down to the small town of Idyllwild to get some more food. Lots of small snowdrifts up there, but nothing scary. Overall 21.1 miles today (but only 15 of them on the PCT). Tomorrow I'll drop more than 6000 feet back to the desert; my knees can't wait!
---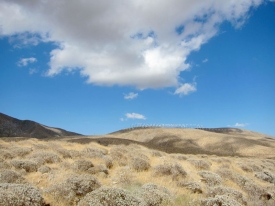 29 May, 2011: Day 11: One Mountain to Another
After another rough morning breaking camp in extreme wind high on Fuller Ridge, this time with a cold mist thrown in, I fled down the trail in search of warmer climes. And down it went – 15 miles of continuous switchbacks dropped 6,000 feet, all the way to San Gorgonio Pass and the lowest point on the California section of the Pacific Crest Trail. Easy walking except for a thick, brushy, burned-over area, where apparently my umbrella got ripped off my pack without me realizing it – bummer.
In the afternoon I crossed four-lane Interstate 10 and found three coolers underneath the overpass with ice, drinks, and fresh fruit for PCT hikers. Then it was on up into the San Gorgonio Mountains, past a couple miles of scenic windmills, to my camp in a little canyon. Altogether 24.3 miles today, my longest yet!
---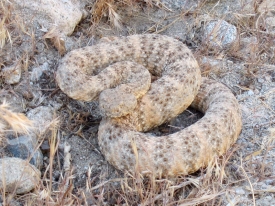 30 May, 2011: Day 12: Up A Creek
It was an uphill battle today as I climbed 5,000 feet (a vertical mile) into the San Bernardino Wilderness, following an idyllic Mission Creek through an endless gorge lined with cottonwoods, with pines at the upper end. I caught up to another hiker named Todd in late morning and we leapfrogged each other for the rest of the afternoon, then camped together while he told me stories about owning a landscaping business.
I also saw my second rattlesnake this afternoon, rattling and coiled in strike pose on the side of the trail. And it was good to make another 22.5 miles today, especially all uphill!
---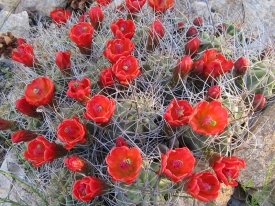 31 May, 2011: Day 13: Lions, Tigers and Bears
This morning I calculated it would be possible to reach Big Bear City, my next resupply point, via a 28-mile hike to Highway 18 and a subsequent 4.5-mile hitchhike into town. All right – civilization!
I caught up to another hiker named Brian in late morning, but not before taking in a bizarre sight. Right beside the trail, around mile 248, were a series of reinforced cages with serious predators inside: a lion, Bengal tiger, and two grizzly bears. And I thought we didn't have to worry about bears until the Sierras, in another 500 miles! Turned out they were trained for the movies.
Brian and I kept up a good pace despite an unexpected cache of soda, bananas, and cookies in coolers by the trail, left for PCT hikers. After hiking 28 miles, we hitched into town with a kindly plumbing contractor, ate an enormous dinner, and checked into a hostel after a very long day.
---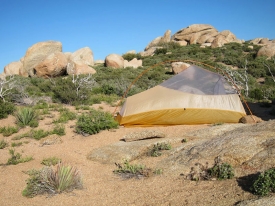 1 June, 2011: Day 14: Lost and Found
This morning I ordered "The Mess" at a trendy breakfast cafe in Big Bear City – which turned out to be a heaping plate of eggs, hash browns, meaty stuff, veggies, and just about everything else a hungry hiker could ever wish for.
Then Brian and I managed to hitch a ride to the post office, where we retrieved resupply packages and had our photos taken for a big PCT board on the wall, and finally headed back to the trail, putting in 13 miles despite a 12:30 start and full stomachs. Best of all, though, we ran into Adam, who I camped with three nights last week. He had discovered my lost umbrella near Mt. San Jacinto and handed it over, saying "I'm glad I finally caught you. I've been carrying this thing for the last three days!"
Tonight I'm camped with Brian and two other hikers, Toby and Natalie, on a ridge overlooking Big Bear Lake. It's about 33 degrees, but nice to have some company up here.
---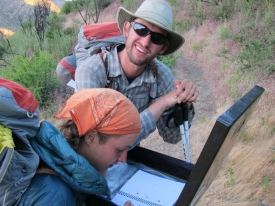 2 June, 2011: Day 15: 300 Miles Down
I've caught up to a small group of hikers, so it's been a few days since I spent any time alone – a nice change. Today I walked with Brian and a young couple named Toby and Natalie for a pleasant 22 miles, gently descending from the San Bernardino Mountains back into desert foothills, past mile 300.
Near the end of the day we hit Deep Creek, the most flowing water I've yet encountered. Unfortunately, severe storms damaged the trail in this section last December, closing the trail, and apparently a guy died recently after falling over a cliff in the off-limits section. So, instead of following the creek for the next 15 miles, we're taking the official detour on roads and ATV tracks, and camping tonight on a dusty roadside pullout, next to a barbed wire fence.
---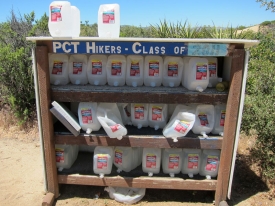 3 June, 2011: Day 16: Loons and Grebes
Brian, Natalie, Toby and I, having laughingly dubbed ourselves The Wolf Pack, walked 26 miles today, spurred on by the promise of lunch at McDonald's, Subway, and Del Taco (simultaneously) at Cajon Pass tomorrow.
We're camped near the scenic Silverwood Lake tonight, east of L.A., which gives me a chance to add some waterbirds to my trip list. So far I've seen about 100 species, the most unusual probably a Black Swift over the chaparral near Mexico, but am missing waterbirds in general. A Clark's Grebe and Common Loon were nice addition just now around sunset.
---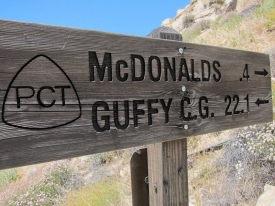 4 June, 2011: Day 17: McMecca Meal
The McDonald's along I-15 at Cajon Pass, east of L.A., is famous among PCT hikers because of its proximity to the trail, air conditioning, and delicious delights. After 15 dusty miles by noon, the golden arches were looking pretty enticing, and I went all-out in true hiker style.
The cool part was that the calorie counts are right on the quick-order menu, so you can plan for maximum energetic intake. I started with two crispy chicken burgers (2 x 600) and followed up with a Reese's McFlurry (400), then an Oreo McFlurry (400), and finally a large chocolate shake (850), for a total of 2850 calories in one sitting! Good fuel for a solid 26-mile day today, but it's hard to keep up with an insatiable appetite; by dinner I was glad to have also thrown a 12-inch Subway sandwich into my food bag – yum.
---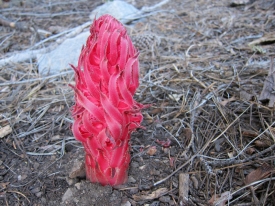 5 June, 2011: Day 18: Wrightwood
Last night we couldn't find a good campsite, so Toby, Natalie, Brian and I rolled our sleeping pads out right on the trail without putting up tents. "Cowboy camping" like this has merits – sleeping under the night sky is pretty cool – but I woke up this morning covered in cold dew, motivating my earliest start yet at 6 am.
I spent most of the day hiking alone, slowly gaining elevation toward Mount Baden-Powell, a 9400-foot peak which I'll ascend tomorrow morning. In late afternoon I met my mom, who had just driven from Oregon to spend the next week meeting me at different places along the trail. After a 24-mile day, it was sure nice to be ferried to a motel room in Wrightwood without even having to hitchhike!
---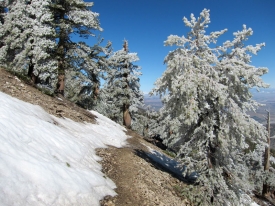 6 June, 2011: Day 19: On Thick Ice
I began the day by climbing straight up Mount Baden-Powell, and was on the 9300-foot peak by 9:30. It was subfreezing up there, with two inches of solid ice on the windward side of all surfaces; the last half mile before the summit led over continuous frozen snowdrifts; and my tennis shoes didn't give much traction on the ice, so I was happy enough to safely descend the west ridge after a chilly ten minutes on top.
The rest of the day was spent leapfrogging across highway two in dramatic mountain terrain. I was forced to take a five-mile detour around one section of trail closed to protect endangered Mountain Yellow-legged Frogs (what, do they think hikers are going to boot them into extinction?). Overall 24 miles, and some fantastic scenery today!
---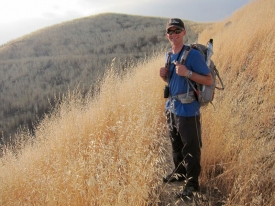 7 June, 2011: Day 20: 20 Days, 400+ Miles
Day 20, and pleased to report that I am healthy and happy. So far, I've walked 419 miles with no days off; my longest day has been 27.4 and my shortest 12.9, averaging about 21 miles per day.
I'm grateful to have escaped injury so far, as already three different hikers I've met have quit the trail in disappointment. I haven't been sick, taken a single Ibuprofen, or even set an alarm to wake up. The weather has been almost perfect. If every day could be like today, a smooth 21 miles through interesting terrain, this would almost be too easy!
In two weeks, though, I'll hit the high Sierras, and early reports are suggesting an incredible amount of snow there. Anyway, that's still 300 miles away…
---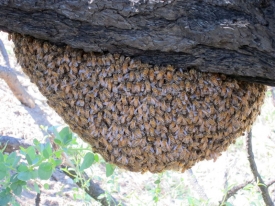 8 June, 2011: Day 21: Slackpacking
My mom is meeting me at trailheads and road crossings this week, which means I can carry a lighter pack and sleep in civilization more often. Last night we stayed at a motel in Palmdale, and tonight I was able to reach a KOA Campground via a stark, 25-mile stretch of burned-over trail charred by the disastrous Station Fire a couple summers ago.
Backpacking without carrying a fully-loaded pack, partly supported by outside help, is called "slackpacking," and most long-distance hikers jump at any chance. It's not often that someone volunteers to literally take weight off your back, and I'm grateful to my mom for the support this week. When we walked into the KOA oasis together this evening in pristine low-angled sunlight, after flushing a Great Horned Owl around the last bend (closely pursued by a Hooded Oriole), thinking of SPAM and chili for dinner, I really couldn't have been much happier.
---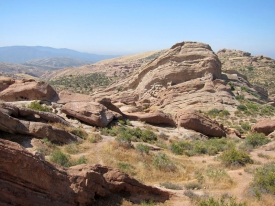 9 June, 2011: Day 22: Agua Dulce
Today was punctuated by an unusual number of different and interesting landmarks, making 21.4 miles go fast. First I crossed under I-14 via a long, mine-shaft-like tunnel; then passed through Vasquez Rocks; and finally walked through Agua Dulce, a tiny town full of interesting distractions including a large sign advertising a "Lost Monkey."
I'm back in the desert foothills, with temperatures in the low 80s this week. It's fun to see some birds I don't often encounter; today's list included Phainopepla, Rufous-crowned Sparrow, California Thrasher, Costa's Hummingbird, and Nuttall's Woodpecker. Sure ain't in Oregon yet!
---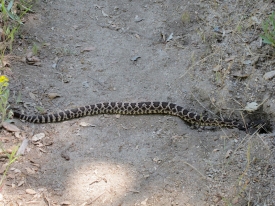 10 June, 2011: Day 23: Chaparral
I felt like a pawn advancing down a chess board today: just moving forward. The trail wound through homogeneous chaparral for 20.1 miles, mostly shadeless and dry, up and over a couple of thousand-foot ridges, gradually heading north.
But I stumbled over a family of baby Mountain Quail, flushed a Turkey Vulture off a dead skunk on the trail, and met two Israelis named Pepper and Mace who had just taken seven days off for no particular reason (guys, we still have a long way to go…), so I didn't get too bored. And I was glad to hike under my reflective umbrella for most of the afternoon, perfect for these hot, sunny desert sections.
---
I put in a solid 11×10 (11 miles by 10 am) in the cool morning hours, then spent the rest of the day meandering along an oak-lined ridge in the Angeles National Forest, for a total of 25.3 miles today.
Just before midday I hit the 500-mile mark, spelled out in rocks on the side of the trail. Someone has taken the time to arrange similar "milestones" every 100 miles so far, so I look forward to every hundred completed. Half a thousand miles already! That's farther, for instance, than the whole length of Oregon, but still less than a third of California…
---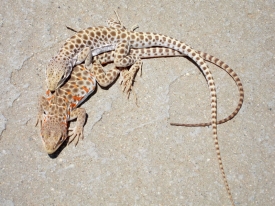 12 June, 2011: Day 25: The LA Aqueduct
What a weird day. At about 9 am I stopped at Hikertown, the home of a guy named Bob who has converted his 3-car garage into a veritable PCT oasis, with separate bathroom and lounge areas, and who hosts several hundred hikers each year. He's also built a small-scale Western town in his front yard, and occasionally ferries hikers to a nearby restaurant in his old Rolls Royce.
Tempting, but I wanted to get today's miles in before the heat hit. Decades ago, owners of the massive Tejon Ranch refused to allow PCT builders to route the trail through their mountains, so this section takes a 22-mile detour straight through the edge of the Mojave desert, following a barren dirt road along the Los Angeles Aqueduct (ironically, the structure is mostly enclosed, with no access to water for the last 15 miles). This is a notoriously hot, flat, and desolate stretch; the average high on June 12, based on the last 30 years, is over 100 degrees; so I was lucky to cross today on a lovely 85-degree afternoon, with a breeze.
---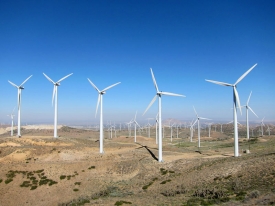 13 June, 2011: Day 26: Tehachapi
After a long, grinding uphill out of the Mojave desert, I spent the afternoon traversing along a shadeless ridge until it dipped toward Tehachapi in a valley full of hundreds of giant windmills. The turbines sprouted from bare hilltops like a forest of enchanted trees – quite a spectacle after endless miles of desert.
Today was my second marathon-distance day of the trip, at 26.4 miles, and maybe the hottest day so far without much shelter besides my reflective umbrella. Only a few more days before I'm done with the desert for good…
---
After 12 consecutive 20+ mile days, Tehachapi sucked me into the vortex known as Best Western, so, instead of sleeping in my tent 20 miles up the trail tonight, I'm watching Valentine's Day on TV and lounging on a crisp set of sheets while eating fresh strawberries.
It wasn't a total loss; my mom helped me slackpack an eight-mile section through a wind farm this morning, which took about three hours, qualifying today as a "nero" (the hiker term for "nearly zero"). Then it was all about enjoying civilization; we even went to a movie! The only film showing in Tehachapi this afternoon was Kung Fu Panda 2, and the theater was jammed with little kids, but it was dark, cool, and full of popcorn – awesome. Tomorrow, back to the trail with fresh legs.
---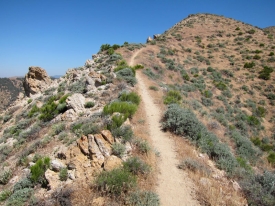 15 June, 2011: Day 28: Desert Sunshine
Early this morning, on an exposed 2,000-foot climb outside Tehachapi, I met a group of three PCT hikers heading south. Uh, south?
"We walked north up this trail yesterday," one guy explained, "and it was just way too hot. We were all getting serious heat exhaustion." They all nodded, and another guy added, "My thermometer said 113 degrees. It was crazy." When they nearly ran out of water, and one of them started vomiting, they had decided to turn around, backtrack 10 miles to the last highway crossing, hitchhike to "the beach," and take a few days off before skipping north 150 miles to the Sierras, with vague plans to make up the missing desert section in a cooler month.
It sounded like a rough time, but I pushed ahead and encountered no such difficulties. My thermometer registered 85 this afternoon, exactly the same as yesterday, and I only needed two of the four liters of water I packed despite 20 miles with only one water source. Hope those guys enjoy the beach, anyway…
---
I passed the 600 mile mark this afternoon on my way into the wonderfully cool, green Tehachapi mountains, full of pines and oaks – a nice respite from hot desert.
One of the highlights of my 20.7-mile day was spooking a deer: a real, live, actual specimen of wildlife! Yes, I see them every day at home in Oregon, but this was the first animal bigger than a rabbit I'd encountered on this whole trip so far. I also found cougar tracks on the trail today, and met two different hikers who'd seen bears recently, so maybe I'll run across one of those, too.
---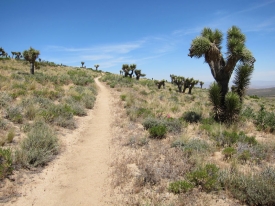 17 June, 2011: Day 30: Sand… Sun… Rocks… Repeat
Yesterday's cool mountains were just a tease; today the trail plunged right back into the Mojave furnace, and I spent 23 miles slogging through pea-gravel sand without shade besides the occasional Joshua Tree or flyover fighter jet.
I crawled under a Joshua for two hours in mid-afternoon, and quickly discovered its soft-looking leaves might as well be bristling steak knives, drawing blood wherever they poked. It sure gave me extra appreciation for the Loggerhead Shrike nest I found in a Joshua Tree earlier in the day, holding two well-protected nestlings. How the birds manage not to skewer their eyes out, I'll never understand.
I should hit Kennedy Meadows on June 22nd, where the desert officially ends and the Sierras begin, at mile 700. Bring on the snow – I'm ready for it.
---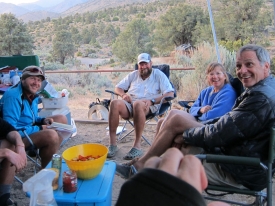 18 June, 2011: Day 31: Walker Pass Magic
I shuffled into Walker Pass this afternoon, after a 20-mile day, to the unexpected sound of coordinated applause. A large canopy had been erected at the edge of the otherwise desolate campground, with two dozen grinning faces peering out of the shade – and I was immediately offered my choice of iced beer or soda, to be followed later by a full-on dinner!
A couple of generous trail angels have been running this spot continuously for the last week, greeting each hiker who hits the end of Section F with the equivalent of a marathon aid station or racecar pit stop, scaled to PCT standards. Quite a nice surprise after the desert, though it was cool to get my first views of snow-capped Sierra peaks in the distance this morning. Weird to think I'll be up in them next week.
---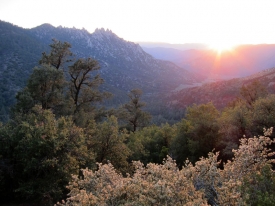 19 June, 2011: Day 32: On To The Mountains…
Late this afternoon, after hiking 25 miles, I passed a milestone of sorts: Since I've walked 676 miles, I now have less than 2,000 to go. Dang, this trail is long!
My mom said goodbye this morning after more than a week of meeting me at different points along the trail. It's been so nice to have the company and lighter load in various sections; I miss it already. She's on her way back home to Oregon, and I'm on my way to Kennedy Meadows, gateway to the Sierras. I might even get there tomorrow…
---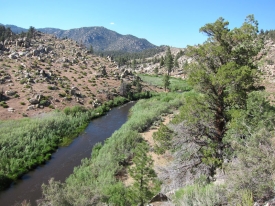 21 June, 2011: Day 34: At Kennedy Meadows
I made it through the desert! 702 miles, 1/4 of the PCT, and I'm now hanging out in Kennedy Meadows with about 30 other hikers, all very excited about going through the Sierras next week. This is a major resupply point for all of us, and I picked up some serious new gear in four separate packages: ice axe, traction spikes, bear canister, extra warm clothing, and a ton of food for the snowy mountains.
Reorganizing my pack is such a challenge that I'm taking an entire day off, for the first time on this whole trip. Almost all PCTers take a big break here and it's been fun to lounge with a couple dozen hikers, all opening their mail like it's Christmas, and gossiping about Naked Hiker Day (which is today) – maybe it's a good thing I'm not on the trail!
There has been no cell reception the last two days (hence no photo), and it might be sketchy in the rugged mountains, so be patient I'll post updates as often as possible when I find coverage on the high ridges. Onward and upward!
---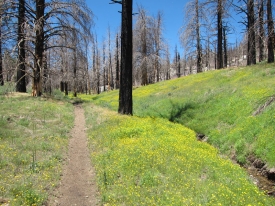 22 June, 2011: Day 35: Heavy Pack
I loaded my pack this morning with 12 days of food and an ice axe, traction spikes, bear canister, and warm clothing, and discovered it all weighed more than 45 pounds – ouch. I'm gonna have to eat a lot this week to make that pack lighter; today was definitely the heaviest it will be on this whole trip.
Because of the weight, an uphill day, and the collective decision of a group of 12 (!) hikers I'm camping with tonight, we all decided to call it at 14.7 miles and spend this afternoon lounging next to the idyllic Kern River.
After averaging a month straight of 22-mile days through the desert, things are about to change drastically. Through the Sierras, 12-15 miles is serious effort. I'll be in the snow day after tomorrow, probably on Mount Whitney soon after. Can't wait!
---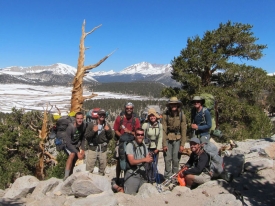 23 June, 2011: Day 36: Mosquitos and Altitude
I hit 10,000 feet for the first time today as the trail ascended a beautiful series of meadows and ridges, with snow-capped peaks rimming the horizon. With a heavy pack, I was glad to do 15 miles and camp with about a dozen other hikers by Death Canyon tonight.
Also for the first time, I hit annoying mosquitos this morning. They'll only get worse as summer progresses, but hopefully I'll be too high for them the rest of this week. The trail hits 11,000 feet tomorrow, where the snow pack is still continuous; should be interesting!
---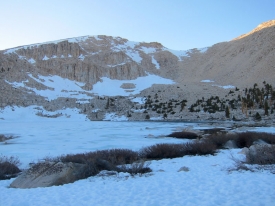 24 June, 2011: Day 37: Welcome to the Sierra
Finally, the high Sierras! I'm camped with a group of excited hikers tonight at Chicken Spring Lake (11,250 feet) after an uphill 21-mile day. Around my tent are snowdrifts five feet thick, and the lake is mostly frozen solid. We sure ain't in the desert anymore…
I was actually expecting more snow since hikers reported epic conditions in this area earlier in June, but apparently the recent hot weather melted a lot of it. There is plenty of bare ground, and the trail has been easy to follow so far despite lots of snowdrifts on north-facing slopes.
This is just the beginning of the real mountains, though, and who knows what lies ahead. I met a hiker today who had turned back after he lost the trail under continuous snow about two days from here, and I'm anticipating half a dozen really gnarly stream crossings this week, besides some steep climbs. Tomorrow looks like a 16-mile jump to Crabtree Meadow, probably followed by a Mount Whitney ascent the day after.
---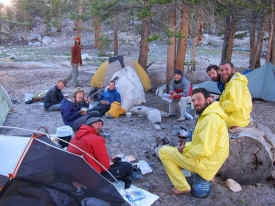 25 June, 2011: Day 38: Summer in the Mountains
It's definitely summer. Even camped at 11,000 feet last night, the temperature didn't drop below freezing, and I spent today in the high country hiking in a T-shirt. Despite recent reports of nearly impassable snowdrifts, the trail was clear and easy to follow for 16 miles to Crabtree Meadow, and I'm perfectly positioned – along with 13 other PCT hikers – to summit Mount Whitney tomorrow morning.
The high Sierras are incredibly beautiful. I'll stay above 10,000 feet for the next few days as the trail skirts some of the most scenic vistas on this continent, weaving among awe-inspiring peaks. This begins the most dramatic section of this whole adventure, and I'm loving every minute of it!
---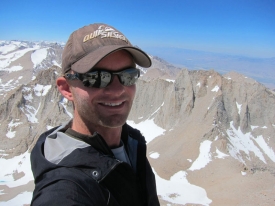 26 June, 2011: Day 39: On Top of Mt Whitney
Right now, I am sitting atop Mount Whitney, at 14,505 feet the tallest mountain in the continental US. It's a bluebird day, no clouds, no wind, and the view is spectacular!
It took me six and a half hours to climb here from base camp at 10,000 feet, taking it easy on the eight and a half mile ascent through snowy valleys. An early stream crossing meant wet feet all day, but otherwise it was a straightforward hike, and such a reward at the top! Whitney is not on the PCT, so it's a one-day, 17-mile side trip, but totally worth it. I'll remember today for the rest of my life.
---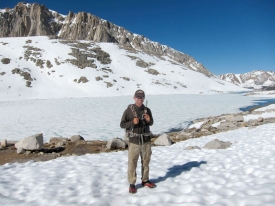 27 June, 2011: Day 40: Creek Crossings
An "easy" eight and a half mile day today as the trail crossed high valleys and plateaus, at times completely buried in five feet of slushy snow near 11,000 feet. I hiked with two easygoing PCTers, Squirrel and Little Bug, and we're now camped with half a dozen others by Tyndall Creek to set ourselves up for Forester Pass tomorrow. I've met about 10 southbound hikers over the past two days, all of whom turned around in fear at Forester, so it might be interesting…
Today was difficult enough with my first two major stream crossings, Wright and Tyndall. A record snowpack is melting fast with the hot weather this week, and Sierra streams are raging. When we arrived at Wright Creek this morning, the mere sight of it was enough to make Squirrel, Little Bug and me have to pee simultaneously. That accomplished, we donned our packs and waded fully dressed into an ice-cold, thigh-deep current 20 feet wide. Tyndall Creek was even more terrifying, but luckily someone had left a note about a safer crossing one mile upstream – whew!
---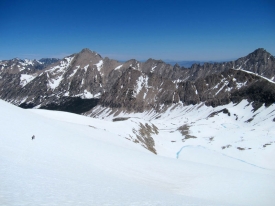 28 June, 2011: Day 41: Forester Pass
I crossed the highest point on the PCT today, Forester Pass at about 13,200 feet, and it delivered. Several of us made the climb. Except for a few exposed switchbacks, the next 10 miles were buried in heavy, continuous snow.
The ascent was straightforward but steep, and I made full use of traction spikes and ice axe to keep from slipping into oblivion. Near the top, a step-by-step traverse across a 30-foot-wide, extremely steep snow chute promised nightmares for anyone afraid of heights, but the view was incredible!
Our real work, though, began on the descent. We glissaded (slid feet first) down some long, steep snowfields to reach a frozen lake on the north side of the pass, then trudged through increasingly soft snow toward a forested valley below to look for the trail. At one point Little Bug went in up to her waist and had to be dug out; postholing in slush is no fun. By day's end, we were worn out from the effort.
Clouds are rolling in and a ranger told some other hikers today of a possible impending storm. I am battened down, hoping it blows over and carefully weighing my remaining food. Slow progress this week means strict rations for the next few days; man, could I go for a burger…
---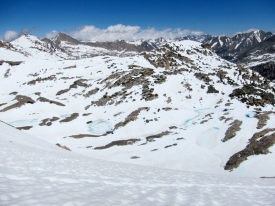 29 June, 2011: Day 42: Glen Pass
This week, the mantra is "a pass a day," and today's climb was called Glen Pass. Although not quite as high or steep as yesterday's effort, Glen definitely took a lot of hard work. The trail was buried in snow for most of the day, and traction spikes and ice axe once again came into play on the precipitous high traverses.
I hit a low point late this afternoon after two creek crossings (one slow, waist deep, and a fast knee-deep torrent that I crossed by interlocking arms with four other hikers). I was soaking wet from the waist down, clouds were rolling in, it was beginning to snow, and I got cold. Hustling down a valley toward tonight's camp, I somehow left behind my beloved Leica binoculars, and didn't discover them missing until at least four miles later, by which time it was too late to turn around. So, tomorrow morning I'm getting up early to run back to where I think I left them. It's gonna be a very worried night's sleep…
---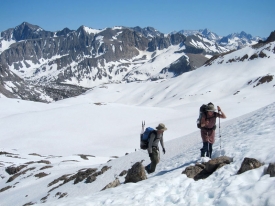 30 June, 2011: Day 43: Pinchot Pass
I rose at 4:30 am this morning and backtracked five miles of trail through icy snow and two frigid creek crossings, up 2,000 feet, searching for my missing binoculars. No luck. Either another hiker picked them up, or… I don't know. In any case my Leicas are gone, and I spent the rest of the day feeling heartbreakingly, wrenchingly devastated; besides being expensive, those binocs have traveled many places around my neck over the last 10 years, including the last 800 miles of trail. How could I have just left them sitting on a rock?
It was a bad start to a brutal day. I arrived back in camp at 7:30 am, having already put in a pointless 10 miles, and immediately hiked out with Goodness, Zm, Skipper, and Dane, who had all waited for me. Our mission today was Pinchot Pass, which involved a 3,500 foot climb to 12,000 feet. We quickly lost the trail under heavy snow and spent the rest of the day slogging and bushwhacking through a slushy, rotten mess, navigating with a GPS and sheer willpower; in the end, we took ten and a half hours to cover just 11 miles.
---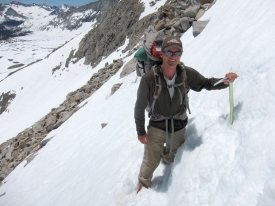 1 July, 2011: Day 44: Mather Pass
Some say that Mather Pass is the most dangerous section of trail on the entire PCT; deep inside a remote part of Kings Canyon National Park, Mather links two Sierra peaks with a thin, cornice-topped knife ridge, more than 12,000 feet high, and extremely steep-sided.
It certainly depends on weather and snow conditions, but I didn't see the big deal. The hardest part was the approach; it took five hours to fight six miles uphill through sun-cupped and slushy snowfields to the base of the pass.
I glissaded down the back side with Goodness, Zm, Skipper, and Dane, and, after a few more miles of snow travel, we dropped low enough to find exposed trail (!) at an endless series of switchbacks called the Golden Staircase (or, as one guidebook mistyped, the Golden Suitcase) which led into a remarkably lush, snow-free valley. On regular dirt tread for the first time in several days, we logged a gloriously fast ten miles in late afternoon and stopped to camp at 9:00 pm after a very long 21-mile day, ready to hit Muir Pass in the morning.
---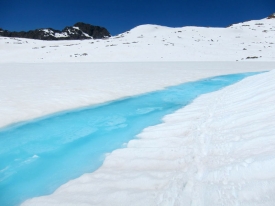 2 July, 2011: Day 45: Muir Pass
The typical Sierra routine: I got up at 5:30, slogged up a 3,000 foot climb, lost the trail, and walked over rotten snow for 10 straight miles above treeline before dropping into another lush valley to camp by a river. It's been pretty much the same every day this week, and today was no exception.
Muir Pass is more gradual than its neighbors, which means more time spent in snow on the approach and descent. But at least I wasn't alone – there were 17 PCT hikers sitting on top when I arrived, some of them lounging inside a stone hut dedicated to John Muir. Perhaps the most exciting moment today was when one of them began an epileptic seizure at 12,000 feet, but fortunately it passed quickly.
In late afternoon I forded Evolution Creek, 40 feet wide and hipbone-deep but moving sluggishly in a meadow. Looks like I'll reach my next resupply point, Vermilion Valley Resort, day after tomorrow. Can't wait for a real meal and a shower – I haven't changed my underwear in 13 days.
---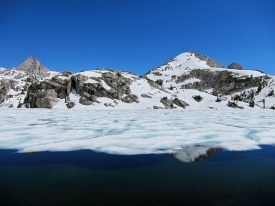 3 July, 2011: Day 46: Selden Pass
The biggest excitement today was not Selden Pass (which required the usual 3,000 foot climb, awesome vistas, and a few miles of continuous snow; nothing new) but a series of creek crossings in late afternoon, after dropping back below 10,000 feet, near the end of a 20-mile day.
Bear Creek was the worst. I was hiking with Skipper and Dane when we hit the creek about 6 pm, in full force, and we scouted for a crossing for about 40 minutes before committing. It was impressive: 40 feet wide, waist deep, and fast. We forded using a tandem method where everyone lines up side by side, faces across the river, and weaves their arms around each other's backs to hang on to opposing shoulder straps. Actually, pretty safe. I'm just glad I wasn't alone; I've walked in a group of three to twelve hikers through the Sierras so far, which makes all the obstacles easier to manage, and the scenery easier to appreciate!
---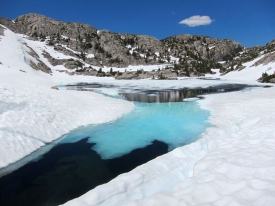 4 July, 2011: Day 47: Vermilion Valley Resort
After 13 days of the most intense hiking I have ever done, 175 miles through the toughest terrain on the PCT (with a side trip to climb Mt Whitney), I made it to Vermilion Valley this morning in time to catch the ferry across Lake Edison, and spent the rest of the day gorging on pancakes and burritos. Civilization!
Going almost two weeks without resupplying through the high Sierras, especially this year, was crazy, but I'm so glad I did it. Lots of hikers are skipping this section or trying to "flip" to another piece of trail after getting psyched out on hype, scared of all the snow, but they're missing out; the Sierras are really incredible, probably the most rewarding part of this whole experience. Why hike the trail if you're gonna skip its crux?
For me, the mountains ain't over; I keep hearing about lots more snow and high rivers in Yosemite, a few days north. Apologies for the delayed entries this week – I haven't had cell service in eight days, but will continue to post whenever possible. Happy Fourth of July!
---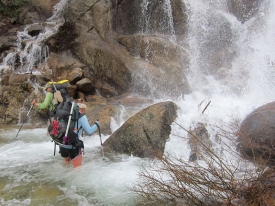 5 July, 2011: Day 48: Silver Pass
A late start since I had to wait for the morning ferry out of VVR, but I returned to the trail by 10 am with a new crew of hikers, and spent the rest of the day walking with Crasher, Flash, and Noodles Romanov. We climbed 3,000 feet to Silver Pass, which was snow-covered but not particularly noteworthy, then worked slowly north, putting in a solid 16 miles by dinnertime.
I met an interesting fellow named Caveman this afternoon, bearing a striking resemblance to that Geico guy. He had no maps for this section and had just completed a massively frustrating ten-mile circle after getting lost in the snow. While looking over our maps, he told us a bit about his aspirations to become a professional cage fighter, then apparently decided to try to night hike the remaining 15 miles to Mammoth when his friend Eight Mile arrived. Good luck, guys… I'm going to sleep
---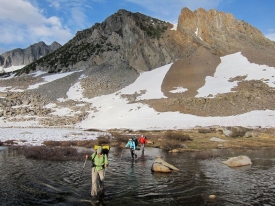 6 July, 2011: Day 49: Reds Meadow
I took the wrong trail out of camp this morning and ended up a mile and a half down a steep set of switchbacks before I realized they were leading the wrong direction, thus wasting an hour. Oops.
Much of the rest of the day was spent playing a tiring game of hide and seek with the trail in dense forest with five- to ten-foot snowdrifts stacked like frozen sand dunes everywhere. For one two-mile stretch I bushwhacked straight through the woods, crawling over blowdowns, slipping and sliding on waves of compacted snow, glad for the excellent GPS in my iPhone. But I reached Reds Meadow (near the Mammoth Mountain ski area) in early afternoon and celebrated a rest stop with a couple of ice cream bars, while watching a distant thunderstorm, before moving on to a 17-mile day. Hoping to reach Yosemite day after tomorrow.
---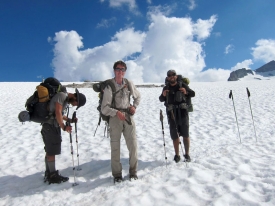 7 July, 2011: Day 50: Donohue Pass
I drifted into another group of hikers and walked with four young guys over Donohue Pass (11,000 feet) today. It was a very tiring 20 miles, more than half on snow, with 3,500 feet of elevation gain, constantly watching thunderstorms roll past in adjacent valleys, but quite satisfying even though we didn't reach the summit until past 5 pm. And I'm in good position now to hit Tuolumne Meadows, a major landmark, tomorrow morning.
I continue to be amazed at the sheer amount of water everywhere as the snow melts. Around midday we negotiated a set of three creek crossings which, in a typical year, might barely get your feet wet. For the deepest one all five of us linked up, hanging on to each other to ford the waist-deep river, and Honeybuzz, who took the upstream position deflecting the brunt of the current, admitted he probably couldn't have stood up alone; it was too strong. Wet feet all day isn't so bad, but I do grimace when putting on soaking, cold shoes each morning…
---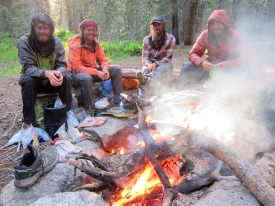 8 July, 2011: Day 51: Yosemite
In a stroke of magnificent timing I arrived at the Tuolumne Meadows store and post office about one hour before it opened for the season this morning. Soon I was eating bananas and ice cream with about ten other hikers out front, celebrating our arrival at Yosemite, and, by the time I'd fetched three resupply packages, mailed one out (their first outgoing parcel of 2011), and munched many rounds of junk food, six hours had passed.
I finally burped and farted my way out of there, swaying under a heavy load with a week before my next stop, blissfully happy. After an easy 15-mile day, I'm now camped by the Tuolumne River with a bunch of other hikers, six million mosquitoes, and – according to the rangers – a problematic mama bear, so it's bound to be an interesting night.
---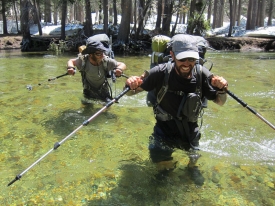 9 July, 2011: Day 52: Yosemite Backcountry
It took 12 hours to cover 20 very strenuous miles today, pushing hard all day without many breaks. I hiked with Honeybuzz, Quake, and Unload as we bullied our way through miles of continuous snow (often bushwhacking and navigating by GPS when we lost the trail), clouds of mosquitoes, 3,500 feet of elevation gain, and several thigh-deep stream crossings.
I have a heavy pack on this stretch (35-40 lbs) but am happy to be carrying enough food. Last week I rationed hard during the most intense section of high passes before resupplying at Vermilion Valley, and lost enough weight to contemplate weaving a belt out of dental floss. (I haven't stepped on a scale since beginning this adventure). So I'm on a mission now to eat 5,000-6,000 calories a day to keep from shriveling up out here; can't afford to get any skinnier.
---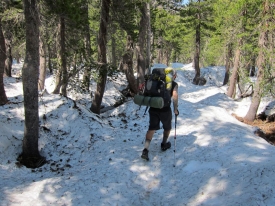 10 July, 2011: Day 53: Slogging North
These mountains are wearing me like ice on granite. Another absolutely brutal day today had me feeling a bit less invincible than usual by dinnertime.
Quake, Unload, Honeybuzz and I lost the trail directly out of camp under five feet of continuous snow and spent a frustrating hour downclimbing a series of steep cliffs and waterfalls to reach a canyon bottom, where two thigh-deep creek fords awaited. Then we climbed a pass, where the trail disappeared again under snow, and then again we dropped straight down into a steep-sided gorge. Traversing down upper Kerrick Canyon, it took an hour to inch just half a mile across incredibly steep, icy snow slopes which ran straight into a raging river below.
By the time we found exposed trail it was climbing a steep ridge, and the descent down the back side was so rough I ripped a 2-inch hole in the mesh of my shoe. At that point we hit Stubblefield Canyon to discover a river eight feet deep blocking the trail. Ain't gonna get across that today, so we camped after a tough 14 miles, hoping the water drops by dawn.
---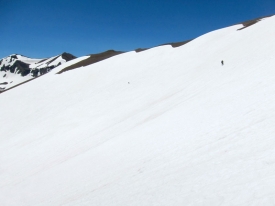 11 July, 2011: Day 54: Endless Snow
This morning the water had dropped significantly and we were able to cross the river in Stubblefield Canyon before the sun hit, though it was waist-deep, fast, a little scary, and ice cold. Thus began today's slogfest.
The farther north I go, the more snow I encounter, and the more demoralizing it gets. Today we were only able to make 14 miles in 11 hours of intense hiking, mostly navigating by GPS through a forest full of 10-foot-high snowdrifts piled like slippery vertical sand dunes. Climbing up and down the drifts is utterly exhausting, even in level terrain; when the route leads straight up a steep ridge, it's almost suicidal.
So, forget the trail: this is a montane expedition interspersed with a few miles of scattered hiking. Looking at it that way, it's quite an adventure. Still, I'm looking forward to the day when I can just walk on a regular trail all day; that might be a while, though…
---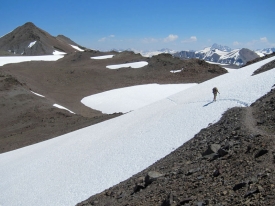 12 July, 2011: Day 55: One Thousand Miles!
At about eight this morning I hit the 1,000-mile mark, appropriately enough at a thigh-deep stream crossing. Only 1,650 to go until Canada!
Otherwise it was a solid day. I put in more than 20 miles to reach Sonora Pass and hitchhiked with some other PCTers to a town called Bridgeport, where I'm sleeping tonight in a bed for the first time in weeks. Even the hiking today was easier and more scenic than in recent days, concluding with an eight-mile stretch above 10,000 feet along a high ridge. Looking forward to hitting the trail again tomorrow with fresh legs.
---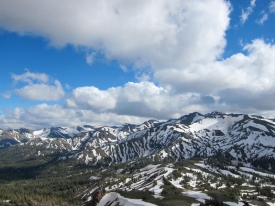 13 July, 2011: Day 56: North From Sonora Pass
It was hard to escape Bridgeport this morning. After mailing my bear canister home at the post office, buying a few groceries, and eating a giant avocado burger for breakfast, it was time to hit the road. Five of us lined up at the edge of town to hitchhike back to the trail at Sonora Pass, and eventually got a ride with two funny ladies in a Suburban who insisted on taking us to a thrift shop in nearby Walker (where Boots purchased a much-needed set of pants, since his crotch has been ripped and he wears no underwear) and bought us Gatorade, before dropping us at the trailhead.
So, I didn't get hiking until 4:15 pm, and put in a short six miles before camping with half a dozen other PCTers. This next section, 76 miles to Echo Lake (by South Lake Tahoe), should be easier than the last, but I'm still expecting about 60% of the trail to be covered in snow. Just gotta take it one day at a time…
---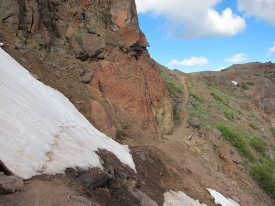 14 July, 2011: Day 57: Snowy Forest
This morning my thermometer read 29 degrees, and my shoes were frozen rock solid outside my tent. Isn't this mid-July in California?
I spent the day hiking with several others, most of the time on snow, often off trail since we kept getting lost. Navigation in the forest with ten feet of snow on the ground is very difficult; a GPS helps dramatically (for instance, a guy we met today who didn't have one had just spent three hours wandering in random circles) but when the trail is totally obscured you're bound to bushwhack a lot no matter what, and progress this afternoon was gauged in long traverses and some entertaining boot-skiing straight down a set of buried switchbacks, totaling 16 miles. Clouds are rolling in and it's still cold – hope the weather holds off.
---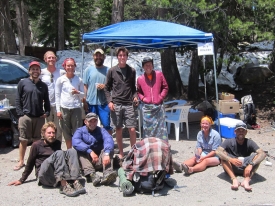 15 July, 2011: Day 58: Ebbetts Pass Magic
After nine miles of wandering through snow-covered forest this morning, and getting lost a few times, I hit Ebbetts Pass at Highway 4 before noon. Expecting a bare and remote mountain road crossing, I was surprised to find a blue canopy there: trail magic!
A friendly guy named Doug had just set up an incredible pit stop for PCT hikers and planned to keep it going for three days. He laid us out a feast: cooked eggs, toast, Captain Crunch with whole milk by the gallon, apple juice, homemade brownies, hot chili, coffee, hot chocolate, bananas, strawberries, oranges, a fruit and veggie tray, Coke… I stayed and ate for four straight hours with 15 other hikers while Doug catered to every need. He'd even set up a pharmacy box with all kinds of medications, plus a box full of extra equipment from shoelaces to pocketknives, and charged people's electronic devices on his car charger. Fully powered up, and morale totally restored after a tough couple of days, I eventually pushed another eight miles to camp with Honeybuzz and Annie. Thanks, Doug!
---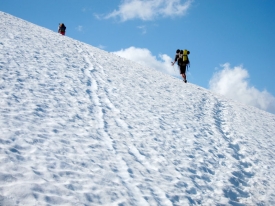 16 July, 2011: Day 59: Carson Pass
Today was a breakthrough day: the trail was relatively clear of snow, and, though we got lost a few times, Honeybuzz, Annie and I were able to maintain a good pace and hiked 26 miles – my biggest day since hitting the Sierras.
We crossed Highway 88 at Carson Pass and talked for a while there with a ranger named Tom. He surveyed us on whether we packed out our used toilet paper or buried it (split responses), gave a conditions report, and then mentioned that a motorcyclist had missed a curve at the pass and died about an hour earlier, 100 yards from where we were standing. As it turned out, we had to walk past the fatal spot to rejoin the PCT, and, while we quietly passed a few feet away on the shoulder of the highway, several sherriffs were loading the bagged body into an unmarked van. It was an intense and sad moment, backed by Tom's earlier advice: "Remember to smell the flowers and listen to the birds out there. Appreciate it while you can."
---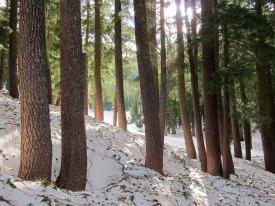 17 July, 2011: Day 60: Echo Lake
This morning kicked off with five miles of heavy, continuous snowpack inside dense forest – ugh. But then Honeybuzz, Annie and I dropped down to cross busy Highway 50, twelve miles west of South Lake Tahoe (where, apparently, a celebrity golf tournament this weekend is featuring Michael Jordon among others), and walked into the Echo Lake Resort.
Echo Lake marks the end of the high Sierras, though you wouldn't know it from all the snow everywhere this year. Still, I'm beginning to hit long stretches of dry trail, and it can't come soon enough; if I want to make it to Canada in September, 15-mile days just won't cut it anymore. Today I pushed 21 miles despite a four-hour break at the Echo Lake store to resupply and drink milkshakes – and I'm camped tonight well inside the Desolation Wilderness, with snow drifts and pine trees as my closest company.
---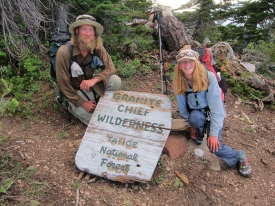 18 July, 2011: Day 61: Miles With Sunshine
Despite several hours in snow, I hiked 29.1 miles today – my longest day of the trip so far. I spent 14 hours on the trail, from 6:30 to 8:30, without many breaks.
About midafternoon I caught up to Sunshine and Balls, a cheerful 11-year-old girl hiking the whole PCT with her dad this summer. They're an entertaining couple, serious hikers, and I was happy to get the chance to walk with them after hearing of them over the past few weeks from other hikers. We are camped tonight on top of a knife ridge overlooking Lake Tahoe, sheltering behind an isolated tree in a brisk wind, happy to have put in a solid effort today.
---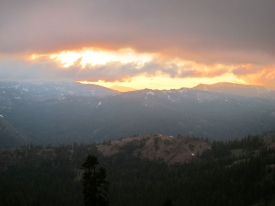 19 July, 2011: Day 62: Two Months
Today marks exactly two months on the trail, during which I've walked every day except for one day off. Though I haven't quite hit the halfway point yet, I'm hoping to be finished in another two months with bigger mileage ahead.
This morning I walked with Balls and Sunshine for a while before we met Wired in the Granite Chief Wilderness, looking a bit stressed since her GPS had run out of batteries. The four of us continued on to Donner Pass (like, the actual area where the Donner Party ate each other), then I headed north alone while the rest hitchhiked in to Truckee. Lots of heavy, frustrating snowpack today, but I still managed to squeeze in 27 miles with a few stretches of dry trail to give me hope. Onward!
---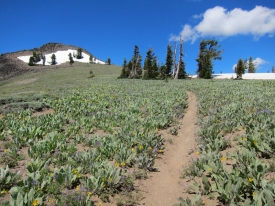 20 July, 2011: Day 63: Ups and Downs
I woke up late this morning feeling depressed, exhausted, with a headache, and dreading the next section of snow-covered trail. Things could only get better from there, and they eventually did – after I'd slogged through 15 miles of snowpack, wandering alone in a confusing forest for most of the day with just my iPhone's GPS for guidance, I suddenly hit unbelievably easy, clear trail in midafternoon and my morale soared into the evening.
The mental roller coaster on this trip has been pretty interesting. I feel the ups and downs more intensely when hiking alone, especially the gnarly stuff, but I've found that things change quickly out here; each day is very much its own adventure, and tomorrow will probably be completely different than today. That's one of the best things about the trail: you're never quite sure what to expect from it. Anyway, it was nice to catch up at the end of the day to Annie, Honeybuzz, and three hikers I hadn't met before – Meow Meow, Liz, and Funyun – so I have company in camp after putting in a solid 25.1 miles.
---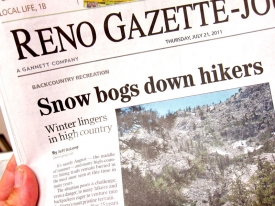 21 July, 2011: Day 64: Strawberries On A Mountain
For the first time in almost four weeks I dropped below 6,000 feet, hiked on clear trail all day, and even broke a sweat because it was summery and warm outside. No snow at all! Kind of ironic, then, that today's top headline in the Reno newspaper was "Snow Bogs Down Hikers." I put in about 17 miles, not including a several-hour detour into Sierra City to resupply, shower, and drink a couple of large milkshakes (one chocolate, one banana).
For this section I'm trying something new and delicious. I stuffed an entire gallon-sized ziplock full of fresh produce bought at the general store in Sierra City – strawberries, blueberries, bananas, green peppers, and mushrooms – and tucked it carefully to avoid smashing in my pack. Never mind that it weighs a couple extra pounds, or that the peppers turned out to be spicy jalapeños; fresh fruit in the wilderness is almost too wonderful to be believed, and I just ate an awesome dinner at camp high on an exposed ridgetop, watching the panoramic sunset. Life is good.
---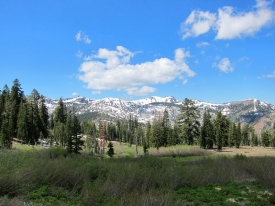 22 July, 2011: Day 65: Ridgewalking
I spent the day walking with Honeybuzz and we made good progress despite about ten miles of snow. My GPS once again proved extremely useful, and I fell five times on slippery traverses this morning, sliding into tree wells on three occasions. Otherwise, the trail generally followed long, dry, forested, gently undulating ridge tops, with occasional views of distant peaks, and, by the end of the day, we'd hiked 27.2 miles.
To reach Canada by September 15th, my original goal, I'd now have to average 25.8 miles per day, with no days off, for the rest of the summer. It's possible, but we'll just see how things go; I'd still be happy finishing before October 1st, after which northern Washington starts getting winter snowstorms. Anyway, that's still 1,400 miles away…
---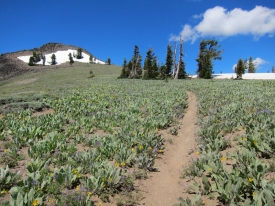 23 July, 2011: Day 66: Mountain Lion
Honeybuzz and I hiked 30.3 miles today, my longest yet, with a leisurely seven a.m. start and a two-hour lunch break at the Feather River.
Near the end of a 4,000-foot descent to the river, Honeybuzz was about 100 feet ahead of me when he spooked a Mountain Lion off the trail. I heard a faint rustling in the leaf litter and looked up just in time to catch the big cat sprinting away downslope at full speed through the oak trees, gone in a second; Honeybuzz also heard it but unfortunately didn't see anything. Last week I followed cougar tracks for about a mile along a snowy section of trail, on top of the prints of hikers just a couple hours ahead of me (and heading the same direction…) but to actually see a Mountain Lion, however briefly, was unexpected and awesome! We also found a Rubber Boa on the trail this morning, my second in three days, and I was pleased to stumble into a colorful King Snake today – a good day for wildlife.
At about eight p.m. we had just hit 30 miles after climbing 3,000 feet up from the river and were searching for a flat spot to camp when the trail suddenly bisected a remote gravel road. As I stepped out to cross it in the dusk, an SUV came flying around the corner, headlights flashing – it was Honeybuzz's dad, who had teamed up with a local trail angel named Nancy while visiting. Somehow, incredibly, they drove up to leave a note at that intersection at the exact moment we hit it; ten seconds either way and we'd have missed each other. Within 30 minutes I was being fed a burger and barbecued ribs. And, instead of my tent, I'm sleeping on the back deck of a beautiful two-story cabin in the woods tonight, showered, with breakfast promised in the morning. Who knew?
---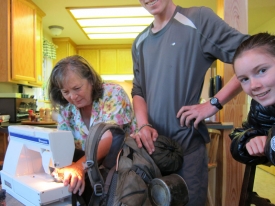 24 July, 2011: Day 67: Angel to Angel
The morning began nicely with scrambled eggs, pancakes, sausage, and fresh fruit courtesy of the trail angels near Bucks Lake. Honeybuzz and I eased off to a late start when his pack's shoulder strap snapped on the way out the door and had to be sewn, staplegunned, and duct taped together, so we didn't hit the trail until nearly 11 a.m. No big deal, except 27.5 miles remained to Belden, where another trail angel might pick us up. Could we make it in time?
Of course. We practically ran across the entire Bucks Lake Wilderness and arrived in Belden, a tiny town known for regular three-day raves and biker gatherings, in time for burgers at the local restaurant with two other hikers, Turbo and Furious. The waiter brought four separate pitchers of water without prompting, a nice touch. Then we called the local trail angel and he happily picked the four of us up, dropping us at a cabin with beds, showers, kitchen, the works. Two angels in two days! This trail is too easy…
---
After sleeping in a real bed last night (!), I headed to breakfast at a tiny restaurant around the corner in Belden. A peanut butter milkshake took priority, followed by scrambled eggs, French toast, sausage, and, finally, a blackberry milkshake.
When the post office opened, Honeybuzz and I hiked over there to shuffle some packages. I had three boxes waiting and mailed off my ice axe, traction spikes, rain pants, long underwear, and some extra food, which lightened my pack considerably. It's summer, and the high Sierras are over: no more long days of slogging through snow!
By the time we hit the trail it was early afternoon, and we had a continuous, 14-mile climb from 2,400 feet (the lowest I've been in more than a thousand miles), where it was nearly 90 degrees, to over 7,000 feet, where we scrambled through snowdrifts before setting camp on a high ridge. Should hit Lassen soon.
---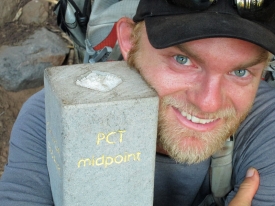 26 July, 2011: Day 69: Halfway There!
At six p.m. Honeybuzz and I reached a small concrete post at a random spot in the forest. On the south side, it said: "Mexico: 1,325 Miles." On the north side, it said: "Canada: 1,325 Miles." Nice!
For the first time, I'm sleeping closer to the end than the beginning of this trail. Otherwise, the day wasn't particularly noteworthy, although I did add Pileated Woodpecker to my trip list (I also notched a Pine Grosbeak and Black-backed Woodpecker this week); I hiked 27.4 miles today, mostly along forested ridges, grateful for some easy trail.
---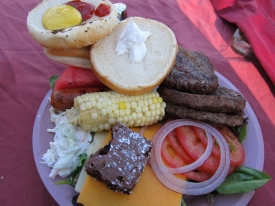 27 July, 2011: Day 70: Drakesbad
Forgive me if I talk too much about food, but it's been on my mind a lot! I never can seem to eat enough on the trail, so today's dinner was something special.
After an easy, 22-mile day I arrived at Drakesbad Guest Ranch – a hot springs and resort within Lassen National Park – just 15 minutes before dinnertime. The resort takes extremely good care of hikers: we're offered free showers, free laundry, free access to the hot springs, free camping, and a 50% discount on all meals. I barely had time to set down my pack before they fired up an enormous barbecue and buffet line.
Within minutes I packed in a large steak, a double cheeseburger, a bratwurst hot dog, salad, two slices of watermelon, an ear of corn, three scoops of coleslaw, four slices of cheese, three white chocolate chip cookies, a brownie, and a Dr. Pepper, while other guests watched in appreciation. A quick dip in the hot spring pool helped digest, and I'm ready for breakfast in the morning…
---
I thought I might hit lingering snowpack in Lassen National Park, but it turns out that the PCT takes a wide swath around Mount Lassen through low, flat, dry forest, and I needn't have worried. In fact, today might have been the warmest day yet, with my thermometer registering ninety degrees through most of the afternoon. Instead of snow, I'm now dealing with hot, waterless, and dusty conditions, and associated chafed feet.
After a luxurious breakfast at Drakesbad, I hiked with Honeybuzz, Turbo, and Furious for 24 miles to the small town of Old Station, where I need to pick up a resupply package when the post office opens tomorrow morning. Then it's on to the infamous Hat Creek Rim – should be interesting, as I've heard much about it from other hikers…
---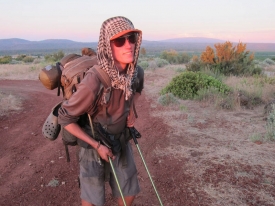 29 July, 2011: Day 72: The Hat Creek Rim
Honeybuzz and I rolled out of Old Station late this morning, having walked into the deli one minute after opening and immediately ordered two large pizzas for breakfast. Thus fortified, we hit the famous Hat Creek Rim.
The Rim spans the longest waterless stretch on the whole PCT – about 30 miles – and much of it is shadeless, exposed, and covered with lava rock, reminiscent of some of the desert sections farther south. This afternoon reached about ninety degrees, and I was glad for my reflective umbrella. I carried five liters of water (ten pounds) and Honeybuzz carried six, but we needn't have worried; after hiking 20 dry miles, we hit a well-stocked water cache at Road 22 (otherwise called Cache-22) with 25-30 gallons of bottled water and several lawn chairs among some juniper trees. Since it was past nine p.m. we threw down camp right there, ready for another dusty and hot day tomorrow.
---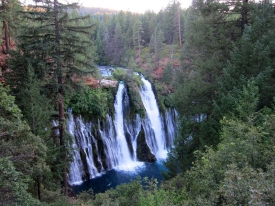 30 July, 2011: Day 73: Burney Falls
Definitely the hottest day I have had so far. I'm currently lying inside my tent stripped to my skivvies with the sleeping bag thrown to one side, and, even after dark, I'm still sweating.
Honeybuzz and I hiked 27 miles through the heat today, beginning up on the Hat Creek Rim and finishing just past Burney Falls State Park, where I picked up a resupply package and snacked on two hot dogs, an ice cream taco, and a quart of milk. Lots of rough lava rocks really beat up our feet this afternoon – hoping for softer, more pine-needly tread tomorrow.
---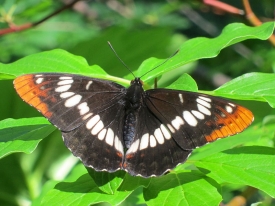 31 July, 2011: Day 74: Walking in the Woods
After crossing the Lake Britton Dam, it was nice to ascend slightly into mid-elevation forest today where the trail traversed shady groves of firs and pines along endless ridges. Honeybuzz and I hiked steadily all day and camped next to a creek after 29.1 miles.
In an open area near some cliffs this afternoon, I looked up in time to watch three Peregrine Falcons swooping and diving right over my head, probably a local pair chasing off an intruding young bird. It was a nice distraction; the trail was pretty monotonous today, although I did catch up to five PCTers I hadn't met before (Red Blaze, Half Fast, Wetsmoke, Wiz, and Buttercup).
As far as I can tell, there are about 30 hikers ahead of me now, out of 400 who set off this year from Mexico intending to walk to Canada (many of whom have since quit, skipped, or flipped). Almost everyone started two and a half weeks before me (I know of only one person who started later), so I've now passed the majority of the northbound herd. If I stick to schedule, I should hit Oregon about August 10th.
---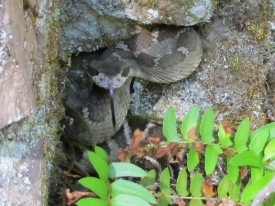 1 August, 2011: Day 75: Westward
Though I can practically see Oregon on the horizon, the PCT takes a long sweep west in this section, and even heads south for a little while, so I'm resigned to several days without any northward progress. Honeybuzz and I hiked about 26 miles today to set ourselves up to reach Interstate 5 at Castella tomorrow.
I ran across my fifth rattlesnake of the trip – and my first since leaving the southern California desert – coiled and rattling in a rock pile alongside the trail this afternoon; kind of weird to find one in an oak forest. We met a german guy named Buttercup yesterday, wearing an obvious Reese's Peanut Butter Cup T-shirt, who claimed to have flicked a rattler into a creek with his trekking pole to get it away from his tent the night before; another hiker named Doc, who is camped with us tonight in his backpacking hammock, said he also encountered a rattler this week, so they're definitely around. Bears are supposedly here, too, but I still ain't seen nary a one on this trip…
---
I hit the 1,500-mile mark about 5:00 this afternoon, near the end of a 27-mile day. Woo-hoo! Only 200 more miles to the Oregon border… should be there in eight days.
Lots of long forest traverses today. It was fun to meet Laura and her husband, section hikers heading south, who have been reading this blog – thanks guys (and, yes, your feather was from a Red-tailed Hawk)! Even better, my mom drove down from Oregon and met Honeybuzz and me at the end of the day; we are staying in a motel in Dunsmuir tonight.
---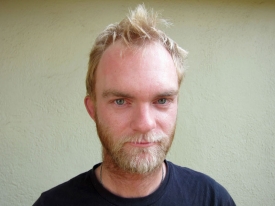 3 August, 2011: Day 77: An 850-Mile Shave
One of the perks of having my mom visit this week is that she brought my razor, so, for the first time in more than a month (and 850 miles), I had a shave this morning. What a difference! I also weighed myself and discovered that I've lost six pounds since the beginning of this hike; not bad, since a guy just ahead of me has already lost 65, and most PCT hikers are down at least ten pounds by now.
Honeybuzz and I hiked 25 miles westward, with a stiff 4,600-foot climb past Castle Crags State Park, after crossing Interstate 5 this morning near Dunsmuir. A freeway sign there said 75 miles to Ashland, kind of depressing since it's still 240 miles away by trail. This path is certainly circuitous.
---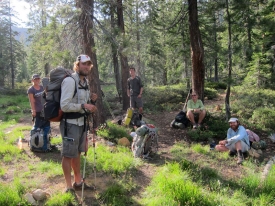 4 August, 2011: Day 78: More Characters
I caught up today to a couple more PCTers I hadn't yet met: Sniper, probably the northernmost solo female, who was laid off from two different jobs in just a few months so decided to go hiking this summer, and who now carries several bleached vertebrae and a giant pirate flag dangling from her pack; and Slapshot, who had just returned to the trail after a mystery fever landed him in the emergency room on an IV for the last three days (he seems all right now, though the doctors never figured out the cause).
Honeybuzz and I logged 27 relaxed miles between eight a.m. and eight p.m. – an exceptionally smooth day of walking since my mom intercepted us at a road crossing around lunchtime with all sorts of goodies (Honeybuzz drank seven cans of soda, for starters), and since the trail was well-graded, flat, and scenic, in contrast to yesterday's big climb. Definitely one of the most pleasant days I've had on this trip so far.
---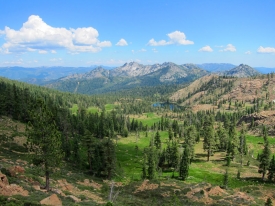 5 August, 2011: Day 79: Mountain Quail
I've seen hundreds of Mountain Quail on this hike so far (more than the rest of my life combined!), but never imagined I'd catch one. Honeybuzz practically stepped on the bird huddled in the trail this morning, clearly sick or injured, and I grabbed it to admire the beautiful plumage up close for a minute. There was nothing further we could do, so, hoping for the best, I left it in a bush and we continued on our way.
Thunder clouds appeared in the Trinity Alps Wilderness this afternoon and we had a brief rain shower – the first precipitation I have had on this entire trip! Not even enough to get the ground soaked, but the air is heavy and sticky as I drift off to sleep after a 28-mile day.
---
This morning I awoke to the unexpected sound of a Spotted Owl calling outside my tent, but even bigger wildlife was afoot today. About midmorning I spooked a black bear off the trail, not too far in front of me, and had a nice look at its furry backside as the beast ambled away downslope. The encounter was most notable because it took 1,591 miles of hiking before my first bear sighting on this trip; somehow I made it all the way through the Sierra without spotting much more than an occasional dry track. Anyway, I finally saw one!
I walked 20.1 miles in just under six and a half hours today, crossing the Russian Wilderness en route to a lazy afternoon at an air-conditioned motel room in Etna, and a burger and shake for dinner. Looking forward to hitting Oregon in four days.
---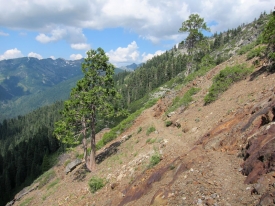 7 August, 2011: Day 81: The Goat People
I hiked 28.9 miles through the Marble Mountain Wilderness today, crossing endless, long, high ridgelines covered in wildflowers and lots of bear poop.
Perhaps the weirdest moment of the day was when a loose flock of people and animals materialized from the woods onto the trail right in front of me, coalescing into two men, a woman, two tiny children, two dogs, and 14 goats. They were all covered head to toe in dirt, wearing rags, and obviously hadn't seen civilization in quite a while. One of the guys explained that they were spending the summer in the forest, gathering wild food where possible, and drinking a lot of goat milk; he carried a rifle, mostly to protect the goats since a mountain lion got one of them last year; and was eager to ask today's date. Interesting folks.
---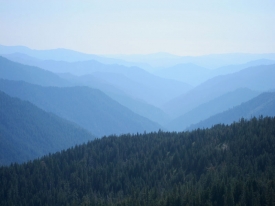 8 August, 2011: Day 82: Down, Down, Down
From my wilderness camp near Marble Mountain, I cruised 26.6 miles to Seiad Valley this morning, arriving there at 3:30 p.m. The last 20 miles were literally all downhill, dropping a quad-quivering 6,500 feet from snowdrifts on bare mountain slopes to 95-degree heat on the valley floor; it was the biggest single elevation change I've yet encountered on the trail. Looks like I'll pay for it in the morning with a 5,000-foot climb over the next ten miles, but that's for tomorrow…
My mom met me after her own adventure with a flat tire and front brake replacement (1,600 bucks' worth), and we're staying in a nice cabin tonight; I just polished off two pints of Ben and Jerry's ice cream before dinner. This will be the last civilization I see before hitting Ashland, across the Oregon border; just 1,000 miles left before Canada – really flyin' now!
---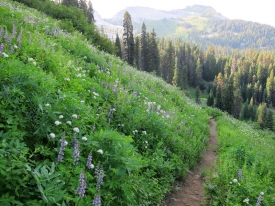 9 August, 2011: Day 83: Seiad Valley
The highlight of a long climb out of Seiad Valley this morning was a striped skunk which ran across the trail right in front of Honeybuzz and me, leaving just a faint musky scent as it passed. Otherwise I was glad to reach the top of the hill, with distant Siskiyou peaks across the Oregon border to the north, and spent the rest of the day ridgewalking.
Well, except a two-hour break for lunch when my mom met us at a road crossing, and another two-hour break to chat with a southbound hiker named Brian (or, as he calls himself now, Overload) who I last saw in the desert more than a thousand miles ago; so, despite camping after dark, we only gained 21.7 miles today. Hoping for a longer effort tomorrow.
---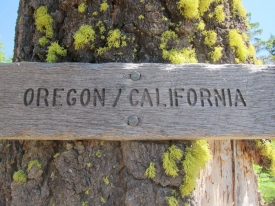 10 August, 2011: Day 84: Oregon!
At exactly noon today, I finished walking the entire length of California – 1,700 miles! After 83 days on the trail, through deserts and snowy mountains, I'm now forging ahead into my home state of Oregon. It sure feels good to be on familiar territory!
Honeybuzz and I celebrated by covering 35.8 miles by 7:30 p.m., finishing just past Mount Ashland. We were able to run a 12-mile section this afternoon while my mom drove our packs up to the next road crossing – it was nice to cruise at almost three times our normal hiking speed for a couple hours.
I saw 164 species of birds on the trail in California, only 13 of which were waterbirds of any kind. Should add a few more in Oregon and Washington; 200 might be possible on this trip (?). Anyway, very happy to have made it this far, and looking forward to five more weeks of hiking.
---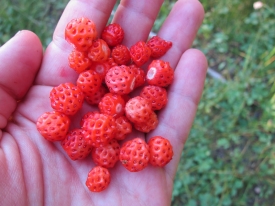 11 August, 2011: Day 85: Pilot Rock
Honeybuzz and I inhaled a huge breakfast at Callahan's Lodge this morning, finishing with a chocolate milkshake before hitting the trail at 10:15 a.m. We hiked 24.2 miles, past Pilot Rock east of Ashland, to reach Highway 66 by dusk.
Judging by plants along the trail, wild berry season is just getting underway. I dawdled to pick fistfuls of blackberries, thimbleberries, and strawberries this afternoon, ending up with sticky fingers and a happy stomach. It's good to be in the Pacific Northwest!
---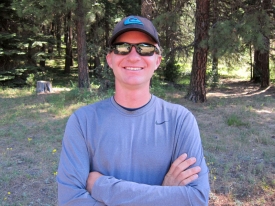 12 August, 2011: Day 86: More Angels
My mom headed home this morning after visiting for the last week, and Honeybuzz and I hit the trail under 30-pound packs and bowed heads. We hiked 25 miles between Highway 66 and Dead Indian Road today, past Hyatt Lake and Howard Prairie Reservoir, only to find ourselves being picked up by more trail angels!
Some friends of Honeybuzz's aunt, a nice couple who once hiked 800 miles between all 21 historic missions in California, took us in to their house near Eagle Point west of Klamath Falls. The house is actually an old restored restaurant and cafe with a full bar, booths, industrial kitchen, stools in the living and dining rooms, and space for 45 people – awesome! So, I'm sleeping in a real bed tonight, ready for the Sky Lakes Wilderness tomorrow.
---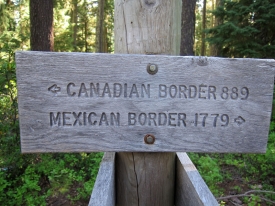 13 August, 2011: Day 87: New Binoculars!
After an extensive breakfast at Butch and Sandy's house (thanks guys!), they drove Honeybuzz and me back to the trail and we hiked out with bursting stomachs. Eleven miles later, my dad met us at Highway 140 near Fish Lake with even more coolers full of food – good thing hikers have an unlimited appetite…
It was nice to see my dad for the first time in 1,650 miles, and he brought a wonderful gift. A representative at Leica, having heard about the loss of my binoculars several weeks ago in the Sierra, sent me a new pair as replacement, free of charge! For the first time in 900 miles, I'm hiking with binocs around my neck, and it feels great – just in time for my home state.
Honeybuzz and I continued hiking north into the Sky Lakes Wilderness, putting in about 21 miles. The mosquitoes are pretty thick; welcome to the Oregon Cascades…
---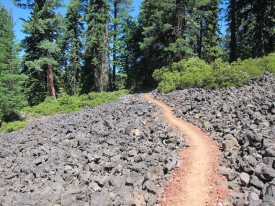 14 August, 2011: Day 88: Sky Lakes
Encouraged to an early start by clouds of mosquitoes around camp this morning, Honeybuzz and I walked 30.2 miles across the Sky Lakes Wilderness today. We both independently discovered that it's not a good idea to spit violently while wearing your head net, even if you've just inhaled a mosquito that somehow made it inside (at least, until Honeybuzz lost his head net and had to rely on 100% DEET instead); otherwise, our greatest entertainment today was given by feeding bits of chocolate to a hungry beetle until it could barely walk – man, can I relate!
We unexpectedly met a PCT legend on the trail this afternoon, a guy named Billy Goat. This is his 10th consecutive summer on the trail, giving him more lifetime PCT miles than anyone besides Scott Williamson. Billy Goat decided to section hike this year, so, after doing some hiking in Israel, New York, and Vermont earlier this spring, he has skipped around a bit between different parts of the PCT this summer. Pretty interesting guy.
---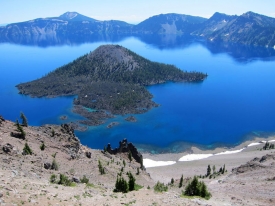 15 August, 2011: Day 89: Injury Timeout
I've been dealing with an inflamed right knee for the past five days, hoping to walk through it, but, after ten miles of severe pain this morning, I had to admit that it wasn't getting any better, and that I probably needed some time off the trail to rest and recover. Fortunately I'm close to home, and my dad was able to pick me up at Crater Lake for a two-day (I hope!) timeout. So, for the first time since starting the trail, I'm sleeping in my own bed tonight.
It felt weird to sit around all afternoon after 20 consecutive 20+ mile days, and even weirder to be dropped back into civilization; in a way, I don't feel like I deserve it since this stop was unplanned. But I've been very lucky to avoid injury so far on this trip; looking around at the three nearest hikers at Crater Lake this morning, one had dislocated his shoulder and was out for two weeks in the Sierra; one had been sidelined for five days with extreme blisters in the desert; and one had just returned to the trail after a bacterial infection landed him in the emergency room in Ashland – and they're part of the minority that hasn't already quit.
---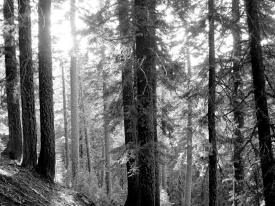 16 August, 2011: Day 90: Visit to the Orthopedist
Today was just my second "zero" – day off – since leaving the Mexican border three months ago. My main entertainment involved visiting an orthopedic surgeon in Eugene, the same guy who operated on my left leg when I broke it skiing a couple years ago; this time he checked out my right knee.
"Sounds like you're living from one cool adventure to the next," he said, when I explained my summer hike. Well, yeah. And the knee? "You're overusing the s-h-i-t out of it," he spelled out, "but the x-ray looks good; a couple days of rest should get you back on your feet." So, clutching a prescription for some serious anti-inflammatory drugs, I headed out the door, got a haircut, saw a movie with my mom, and planned to start hiking again on Thursday. We'll see how it goes…
---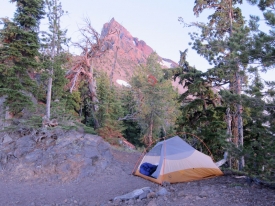 18 August, 2011: Day 92: Back on Trail
My dad dropped me at Crater Lake at 10:45 this morning, and I resumed hiking north after three nights at home. I put in 26 miles before camping on a saddle next to Mount Thielsen.
My knee feels better, though not 100%. I'm currently icing it with a ziplock full of snow – a wilderness ice pack! Just hoping to get back in the groove; it's weird to come back to the trail after taking time off. Gotta build some momentum again…
---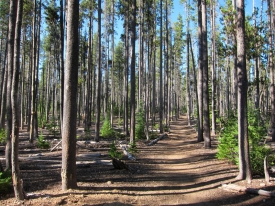 19 August, 2011: Day 93: Slow Motion
For the sake of health, restoration, and knee preservation, I've decided to divide my next two days into three – thus building in an entire extra day before reaching Willamette Pass. This means three sub-20-mile days in a row, and a lot of free time on the trail.
Sounds good in theory, but it's a big challenge to slow down that much, even for just a couple of days, after averaging 26 miles/day over the last month. It was as much as I could stand to stop after only 17.7 miles today, having spent the entire day in self-enforced slow motion – especially since the trail was flat and easy, with my inner racecar driver aching to push twice as far.
I did see my second bear of the trip this afternoon, a big black one which ambled across the trail right in front of me. And, though I hit a couple miles of big snowdrifts over the trail near Mount Thielsen, that section wasn't nearly as bad as recent reports had indicated – I didn't even need my GPS, much less traction spikes. Pshaw.
---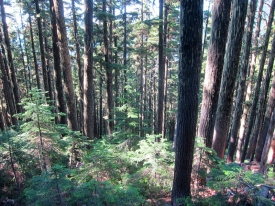 20 August, 2011: Day 94: Summit Lake
I struggled today with a new and formidable opponent: boredom. Having capped my effort in order to rest my knee, I set a punishingly glacial pace for 19 miles but still found more free hours than I knew what to do with, and ended up just staring into space during rest breaks.
With so much time to meditate on my feet out here, you'd think that I'd eventually solve world hunger or something. But the truth is just the opposite: my best days are when my mind is absolutely blank – no worries, thoughts of home and civilization, or annoying songs stuck in my head, just the flow of moving forward. I never get bored while walking. Sitting is another issue, though, and one I haven't dealt with much on this trip!
Anyway, I'm camped at Summit Lake, south of Diamond Peak, with a Common Loon swimming and yodeling out on the water. And my knee is definitely feeling better; another short day tomorrow, and then we'll see…
---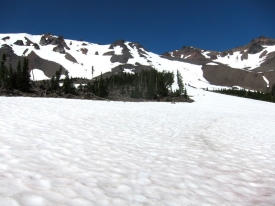 21 August, 2011: Day 95: Willamette Pass
At 1,914 miles from the Mexican border, I reached Highway 58 at Willamette Pass today. This is especially notable for me because it's the closest point on the PCT to my house, just a 40-minute drive west of here; so, in a way, I feel like I'm home. My mom met me at the pass with food, chairs, and a set-up camp.
I climbed past Diamond Peak this morning, through an area of snowdrifts, before walking a while with Billy Goat. At 72 years old, having hiked about 45,000 miles since retirement (including 20,000 on the PCT), that guy contains a wealth of wisdom on living simply; he carries a 10-pound pack, not including any electronics, and urges younger hikers to walk with the trail – not against it. Advice well taken, I hope.
---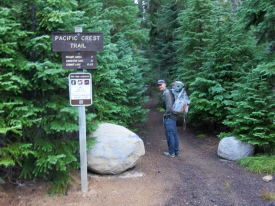 22 August, 2011: Day 96: Familiar Ground
Heading north from Willamette Pass this morning, I was on familiar ground past Maiden Peak, Waldo Lake, and the Taylor Burn – all places I've looked for birds in summers past, and close to home. Today, my mission was a bit different: to hike 25.7 miles.
All went well, and my knee felt great – except for an unexpected shin splint at the end of the afternoon, it was a solid day. I even added two birds to my trip list, Barrow's Goldeneye and Varied Thrush (#166 and #167), before camping by a mosquito-infested lake a couple miles into the Three Sisters Wilderness. Hoping for more of the same tomorrow.
---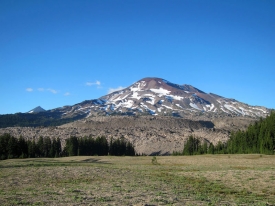 23 August, 2011: Day 97: South Sister
Nope, didn't climb it, just walked past it. But after a couple days of mosquitoey forest, I wasn't quite prepared for the beauty of South Sister when I popped out next to it in low-angled sunlight late this afternoon, near the end of a 30.5-mile day (my knee has improved – thanks for all the encouragement!).
Perhaps my greatest highlight today, though, was a rare bird – a male Williamson's Sapsucker at Horseshoe Lake, just inside Lane County (my home!) where the species has been recorded fewer than ten times. The buzz of discovery kept me going for hours…
---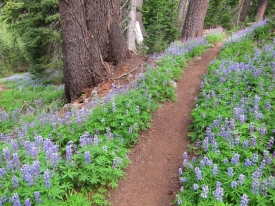 24 August, 2011: Day 98: Lava, Lightning, and a Legend
Lots of interesting scenery today as I walked 24.4 miles past alpine terrain along the Three Sisters, across Highway 242 at McKenzie Pass, and through several miles of lava fields to the base of Mount Washington. Some trail angels at Lava Camp fed me ravioli, chocolate, and soda while I waited out a thunderstorm there in late afternoon – thanks guys!
Approaching dusk, I recognized a southbound hiker from PCT legend – Scott Williamson (AKA Bink), a thirty-something tree-trimmer from Truckee who has, among other things, hiked the trail 14 times, yo-yo'd it twice, and set the all-time speed record two years ago (62 days). He stopped to chat for a few minutes, saying he left Canada on August 8, just 18 days ago (!), and is on pace to finish the entire trail, southbound, in 65 days, averaging 40 miles/day (today he did 43). Makes my four-month, 22 mile/day average seem mighty slow by comparison!
---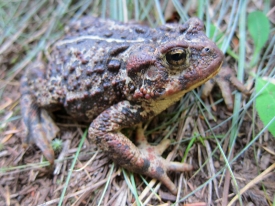 25 August, 2011: Day 99: Two Thousand Miles!
Early this morning, Day 99, I found a small rock cairn and some sticks arranged on the trail, spelling out "2,000″ in the dirt – the two thousand mile mark! (Even better, a Three-toed Woodpecker posed quietly nearby: trip bird #168).
My dad met me at Santiam Pass around midday and we spent more than four hours celebrating in a parking lot there with cheesecake, blueberries, pizza, a picnic table, and a pit toilet – who needs anything else? When he headed home, I hiked north with a heavy pack into the evening, logging 26.9 miles to camp on a high saddle north of Three Fingered Jack. Should be at Timberline Lodge, on Mount Hood, in about four days.
---
I awoke this morning to the sound of a Common Poorwill calling outside my tent (decidedly rare west of the Cascade crest), so I grabbed my iPhone, turned it on, and broadcast a poorwill recording while still inside my sleeping bag, just before dawn. Apparently it was loud enough, since the poorwill immediately fluttered in to land next to my stash of day-old pizza, sitting about four feet from my tent's door flap.
That kicked the morning off to a good start, and I walked a steady 29.7 miles, passing close by Mount Jefferson around lunchtime. Today's oddest moment happened suddenly when I surprised another hiker while she was, er, taking care of serious business, pants down, full moon showing… two feet from the trail! Yuck. Hope I never get that lazy!
---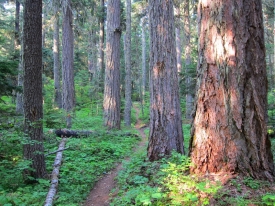 27 August, 2011: Day 101: Easy Trail
I walked 35.3 miles through beautifully lush, green, and snow-free forest today, on nearly perfect, soft, pine-needly trail the whole way. It felt good to set the cruise control for a while, not worrying about my knee.
In the morning I walked with a semi-retired radiologist from Maine, on his first day of a section hike (hi Robin!), and in the afternoon I met two southbound section hikers who recognized me from this blog (hi Don and Richard!), but I didn't see any other through-hikers today. At least I *think* not; twice in the last two nights I've been passed by a mysterious pair of hikers around 9:30 pm, two hours after dark – who is walking that late, and why?
---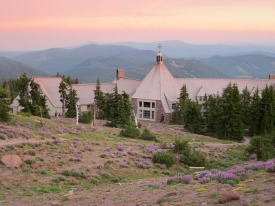 28 August, 2011: Day 102: Timberline Lodge
This afternoon I walked in to Timberline Lodge on Mount Hood, sat down in the third-story bar, and ordered a sandwich plate, a chili bread bowl, and an amber ale with another hiker named Dewy. What a treat! We stuck around long enough for the janitor to show us a photo album of his snow biking, kite boarding, and white water rafting adventures (serious stuff – the guy had spent $8,000 on bikes alone, welding the frames himself), then waddled just far enough to camp past the ski lifts after a 22.3-mile day. I'm now watching the grooming machine do laps on the upper slopes, still open for skiing.
I was laboring up the last steep mile before the lodge, through soft sand, head down, when a couple of day-hikers ahead of me exclaimed, "Oh look, a Turkey Vulture!" I glanced up in time to catch a subadult Golden Eagle cruising past – way more unusual than a vulture in these parts… Glad they spotted it! I guess day-hikers are useful for some things…
---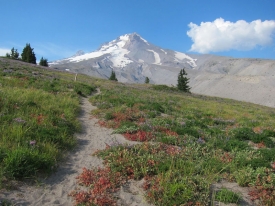 29 August, 2011: Day 103: Fall is Coming…
I looked down on fog-filled valleys all day, smug in my alpine sunshine, until the fog lifted to my elevation in late afternoon, the temperature dropped, the wind sprang up, and I was left scrambling to set up my tent with shivering fingers as darkness set in early. It had been a while since I actually felt cold – and Washington promises lots of mist and moisture ahead. Just hope the weather holds for three more weeks; the climate has been been pretty much perfect for this entire hike – so far.
I walked 29.3 bland, forested miles today between Mount Hood and an abandoned campground at Indian Springs, setting myself up for a short day into Cascade Locks tomorrow. Looking forward to some rest and civilization.
---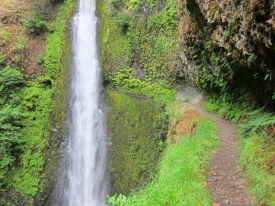 30 August, 2011: Day 104: Washington!
After a cold night of whipping fog at Indian Springs, I hurried 15.7 miles down a 4,000-foot drop this morning to Cascade Locks, the Washington border, and a night at Best Western! It took me 20 days to walk the length of Oregon (457 miles), including a four-day injury timeout; with luck, the remaining 510 miles across Washington will go just as fast.
I took a spectacular route today down Eagle Creek, used by most PCT hikers in this section, highlighted by a series of incredible waterfalls. While admittedly a bit jaded by scenic vistas after 2,150 miles of continuous hiking, I thought Tunnel Falls was pretty cool – the trail had been blasted out of solid rock across a vertical cliff, right behind the torrent, with at least seven American Dippers lurking just downstream.
---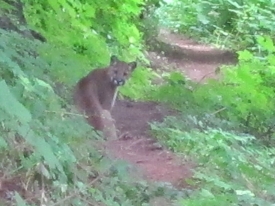 31 August, 2011: Day 105: Mountain Lion #2
While hiking alone early this afternoon, I rounded a bend to find a Mountain Lion sitting calmly on the trail about 40 feet away. The big cat took a minute to notice, then, unfazed, just gazed at me curiously while I stared right back in amazement. What to do?
I took some photos, then, thinking vaguely like a matador, unpacked my silver umbrella in case the kitty was feeling feisty (no big deal). And… well, we kept staring at each other, neither of us budging, for almost ten full minutes. I checked out every whisker through my new Leica binoculars – awesome! Finally he looked away, stretched, rose to his feet, and padded silently down the trail, quickly disappearing around the next corner. You couldn't ask for a much closer encounter – definitely more satisfying than my first one, back in northern California. Today, I beat that Mountain Lion in a staring contest, face to face.
Otherwise, I hiked 30.0 miles, climbed 5,000 feet and descended nearly as much, and camped by a sweet river with Sniper and Todd. It feels good to be in Washington.
---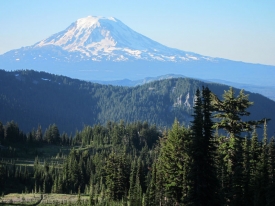 1 September, 2011: Day 106: Sunny September
Happy September! The forecast calls for sunny, warm weather through the rest of this week. It just needs to hold a little longer…
I walked 30.9 miles into the Indian Heaven Wilderness today, where the mosquitoes are as voracious as ever, and camped with Todd, a recent Stanford graduate in plastic surgery specializing in hands (which are, apparently, a tricky business, between the trauma victims, congenital diseases, webbed fingers, stitching big toes in place of thumbs, stuff like that). I'm now seeing cougars in every shadow out here, but otherwise am healthy and in good spirits.
---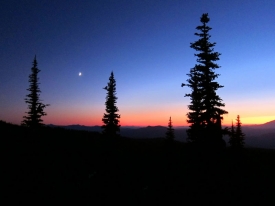 2 September, 2011: Day 107: Mt Adams
Taking advantage of good weather while it lasts, I hiked 30.6 miles to camp on a ridgetop flanking Mount Adams today. It's a pretty sweet spot: from my tent's door flap, I can look out over endless mountaintops, backlit by the setting sun.
And some exciting news: I've been hired to work at the Tiputini Biodiversity Station, in the remote Amazon lowlands of eastern Ecuador, from early January to mid-April! I'll be helping a PhD student with a field project involving Wedge-billed Woodcreepers and mixed flocks, logging a lot of time in the jungle. After spending last winter in Costa Rica, I'm looking forward to dodging another one in the tropics! Got a few more miles to hike first, though…
---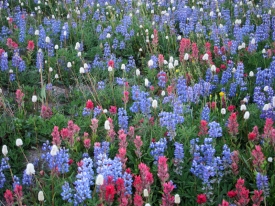 3 September, 2011: Day 108: The Death Stare
I'm cowboy camped on a spectacular saddle tonight, looking over the snowy Goat Rocks, after a 32.5-mile day through the forest.
This morning I came around a corner to find a couple with two dogs taking a rest break. The woman was squatting with pants down, about one foot off the trail, and both dogs instantly charged me so aggressively that I thought they'd tear my legs off. Don't people realize that they're on a public trail? That whole group definitely got my silent death stare…
---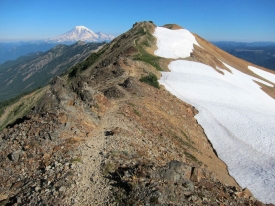 4 September, 2011: Day 109: Goat Rocks
Seems like everybody always goes on and on about how the Goat Rocks Wilderness is spectacular, gorgeous, and, well, spectacularly gorgeous (ad nauseam); many say it's the most scenic spot on the whole PCT. I went through that stretch today with perfect weather. Though it certainly was beautiful, I guess the buildup had raised my expectations to such high levels that they were hard to exceed; it was a pretty cool section of trail, but no match for the Sierra…
Honestly, I was just as happy to see the Kracker Barrel, a convenience store at White Pass, after 24.2 miles of steep and rocky terrain. What has this trip done to me? (Don't answer!) In any case, I'm more than a quarter of the way through Washington after walking 150 miles in five days. Onward and northward.
---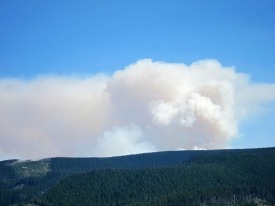 5 September, 2011: Day 110: Mount Rainier
The PCT doesn't get very close to Mount Rainier, but I skirted the National Park boundary's eastern edge for 30.9 miles today, with intermittent views of the impressive peak looming off to the west. This area is known for damp and rainy weather, but I ain't seen it yet – Washington, so far this September, is cloudless and warm. Keep it coming!
Apparently, a forest fire completely shut down a big section of trail this week in northern Oregon, near Mount Hood, and many PCT hikers are now stuck behind it; I slipped through there just a couple days before the closure. Glad to have avoided that mess.
---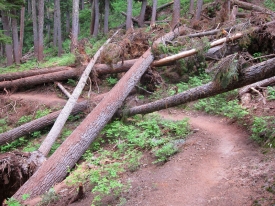 6 September, 2011: Day 111: Elk And Clearcuts
Lots of ridgewalking this morning until the trail dropped into a section of forest and patchy clearcuts, with dozens of annoying blowdowns to climb over. I hiked 30.3 warm, dusty miles between dawn and dusk – with the sunny weather and low topography, this section feels more like northern California than Washington!
I saw my first elk of the trip in late afternoon, right next to the trail in the forest – they didn't seem to mind. Otherwise, not too much wildlife lately, though another hiker I talked to saw a bear. Hoping for a couple more surprises in my last two weeks out here.
---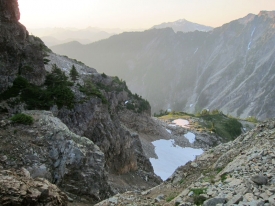 7 September, 2011: Day 112: Two Owls and Magic
This morning I woke to the sound of a Northern Pygmy-Owl outside my tent. I whistled it in to a small tree about 20 feet away, where the owl tooted furiously at me until I packed up and left camp. And, this evening, in fact while I write this very sentence, a Northern Saw-whet Owl is calling nearby in the darkness. Two new birds for the trip!
I hiked 29.1 miles today despite an unexpected 2.5-hour break at a smorgasbord of trail magic – a guy named Not Phil's Dad had set up canopy, chairs, and stovetop with chili and hot dogs for PCT hikers. He'd spent three weeks sitting there already, at a random gravel road in the forest, and seemed a little disappointed to have seen very few hikers so far – not more than four in one day – so was very happy when nine of us converged there this morning (me, Turbo, Mr. Furious, Lovebird, Raven, Doc, Hercules, GQ, and Viper). Guess I'm at the front of the main wave, if there's any herd left this year.
---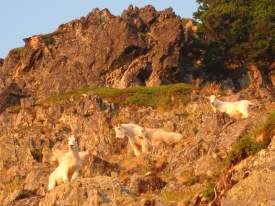 8 September, 2011: Day 113: Man Who Stares At Goats
I hit Snoqualmie Pass today in time for breakfast at the pancake house and a quick resupply before hiking north into the Alpine Lakes Wilderness, totaling 24.2 miles. I am now more than halfway through Washington, past the 2,400-mile mark, with fewer than 250 remaining to Canada.
Northern Washington is very rugged, at least in parts, and this afternoon I traversed miles of steep, loose rock along crumbling ridges – difficult walking, for sure. On one such traverse, I rounded a corner to suddenly startle a half dozen Mountain Goats off the trail just a few feet in front of me – awesome! They scrambled a short distance up the cliff overhead then peered down from an impossible angle, evidently not impressed by my clodding footsteps – hooves would certainly be useful on some parts of this trail…
---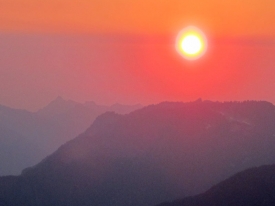 9 September, 2011: Day 114: Roller Coaster
One giant roller coaster ride today, for 31.5 miles, under a hot sun (is this really Washington?). Climb 400 feet, drop 2,200… climb 2,500, drop 2,600… and climb 2,600 more – up and down from ridgetop to valley floor, back and forth, with a wicked-looking elevation profile.
But I saw some Sooty Grouse and Black-backed Woodpeckers along the way, and should arrive at Stevens Pass tomorrow. And I'm going to bed with a happy stomach after demolishing a packet of Mountain House Beef Stroganoff, labeled to serve four people – who are they kidding, really??
---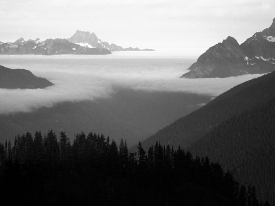 10 September, 2011: Day 115: Stevens Pass
With 27.1 miles done by six p.m., I hit Stevens Pass to find my mom sitting in a lawn chair at the trailhead, doing a crossword, and waiting for me to arrive without even knowing what day I'd get there (I finally found cell service a half mile out, much to her relief) – it's great to have supportive parents! We checked in to a motel in nearby Skykomish where I took my first shower in 11 days.
Back on the trail tomorrow morning, I'll have one week left to Canada – that's it! Just 187 more miles. Once, that seemed like a huge distance; now, it's a final, short hop before the end. I'm ready.
---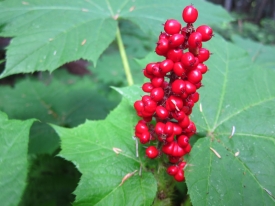 11 September, 2011: Day 116: The Skykomish Buffet
The Sunday breakfast buffet in Skykomish this morning was… AWESOME! I don't know how many calories I ate, but it measured in the thousands.
And I paid for it over the next six hours. My mom hiked a few miles in from the trailhead with me before turning around to head home, and I struggled through 20.0 heavy, sluggish miles before camping on a mosquito-infested ridgetop. My pack felt crushingly loaded, I ate very little even for dinner (still full!), and I could barely keep my eyes open as I hiked through the afternoon and evening. But the buffet was worth all that – I'd definitely do it all over again…
---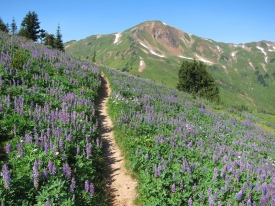 12 September, 2011: Day 117: 2,500
At eight a.m. this morning, I hit the two and a half thousand mile mark – an inconceivable distance when I started this hike, back in May. By dusk I'd logged 29.3 for the day. Just 138 miles to go…
Today rocked all around. I hiked into the Glacier Peak Wilderness and was taken a bit by surprise when I popped out of the trees in late morning into an alpine wonderland. Flowers blooming everywhere, snow decking the slopes, three Golden Eagles soaring overhead, and what weather! Record high temperatures have been set all over Washington this week. I hiked in a T-shirt all day and dripped sweat on every climb. Still feels like summer out here.
---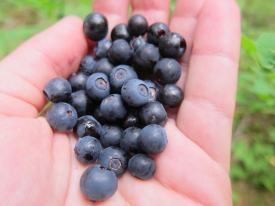 13 September, 2011: Day 118: New PCT
A couple miles before I reached the Suiattle River crossing this afternoon, I found a sign proclaiming, "New! PCT + Bridge," pointing down a freshly cut side trail. Knowing that the bridge had been out for a few years, and sick of hauling myself over miles of poorly maintained trail (thick, head-high brush with lots of deadfall), I followed the sign to see what adventures awaited.
Turns out the PCT has officially been rerouted to incorporate a new bridge three miles downstream, where better bedrock exists. I found the trail crew and a Forest Service employee putting some finishing touches on the excellent bridge before they are airlifted out on Thursday, mission complete. They were pretty excited to see me, saying I was maybe the first hiker to use the new route (!), which also now incorporates a spectacular, 700-year-old stand of oldgrowth. Unfortunately, it adds at least four extra miles, and I fell short of my target this evening despite hiking 27 rough miles today. It's gonna be tight getting to Stehekin tomorrow…
---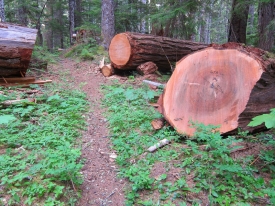 14 September, 2011: Day 119: Stehekin
Another 27 miles (3,000 feet up, 5,000 down) brought me to Stehekin today, an isolated town in northern Washington. The roads here don't connect anywhere else, so it's necessary to take an expensive ferry to reach Stehekin – except, of course, if you walk here!
My dad took the ferry, loved it, and met me at the Stehekin Lodge where we are staying tonight. Looks like a change in weather ahead, but I only have four days left – can I reach Canada before the rain comes? I'll be at the border on Sunday… It's weird to be so close to the finish line.
---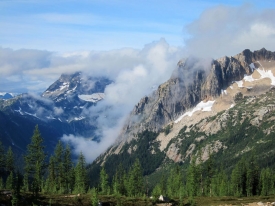 15 September, 2011: Day 120: A Change In Weather
Last night was very windy in Stehekin, and I woke up to gray skies this morning. Finally, the weather I had expected in Washington: cool and cloudy. I just hope any real rain holds off for three more days…
Because of breakfast and shuttle schedules, my dad didn't see me off until after noon (next time we see each other, on Sunday, we'll be in Canada!). I hiked a steady 20 miles up to aptly-named Rainy Pass where a heavy, saturating mist is now drizzling down, enough to soak everything; luckily I found a dry(ish) campsite, just before dark, under a thick tree about 20 feet behind an outhouse by the trailhead parking lot. Gotta love the wilderness.
---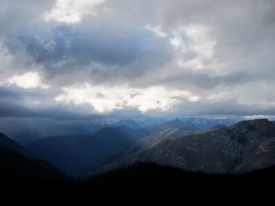 16 September, 2011: Day 121: So Close…
This morning the fog burned off for a few hours of pleasant sunshine, but a layer of clouds had blotted out the sky by midafternoon, and my thermometer registered 37F at six pm with an icy wind – brrr! So much for summer. Some climbers reported snow flurries at 8,000 feet yesterday; I'm camped among rugged peaks at 7,000′ tonight, hoping any precipitation holds off just a little longer…
I hiked 25 miles today, well past the 2,600 mark, and am now camped just 35 miles from the Canadian border (not that I'm counting). Should get there on Sunday morning, whatever the weather brings. It's so hard to wait.
---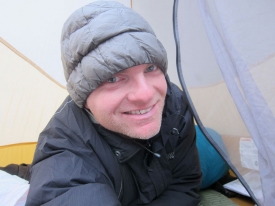 17 September, 2011: Day 122: Pasayten Wilderness
During an early sunbreak on a breathtaking ridge in the Pasayten Wilderness, I felt the first, bittersweet twinges of regret that this trip is nearly over. It's been nearly four months of nonstop hiking, without much time to pause and reflect; I suppose the enormity of it all is really beginning to sink in. I hiked a while, misty-eyed, reminiscing over the summer – then I tripped on a rock, a mean-looking cloud blotted out the sun, and my reverie was snapped. Onward to the finish line!
My thermometer read 28F this morning, and the weather continues to deteriorate, so I'm glad to be out tomorrow. I hiked a frigid 29 miles today under threatening clouds, wearing gloves, hat, rainpants, and down parka most of the day; by late afternoon an intermittent, sleeting drizzle had set in. Time to wrap this thing up – winter is arriving in the mountains.
---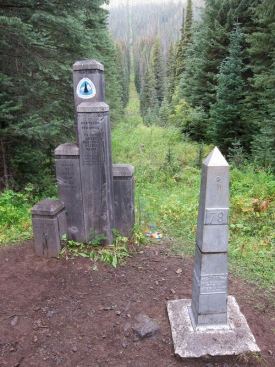 18 September, 2011: Day 123: CANADA!
Just before 9:30 this morning, after 123 days and 25 minutes of nonstop walking, came the moment I have been anticipating so long: The Canadian border, and the northern end of the Pacific Crest Trail – I made it!!!!!!!!
It took just under four calendar months (May 19 to Sep 18) to hike 2,663 miles from Mexico to Canada this summer, averaging 21.6 miles/day (everything included). From the SoCal desert through the snowy high Sierra, dusty NorCal wilderness, buggy Oregon, and lush Washington, it's been an incredible journey.
A big THANK YOU to everyone who gave encouragement through comments and emails – they have meant a lot to me! I can't express how much the support helped, especially through difficult sections.
I am happy to be done; northern Washington was physically and mentally intense. Last night it rained intermittently while I tossed and turned, unable to sleep, and my gear was soaked this morning. My dad met me at the border monument, snapped a few photos, and shepherded me to the Manning Park Lodge where we're spending the night before driving home tomorrow. It is surreal to return to civilization after so long in the woods.
I will be working at a migratory songbird banding station on Metinic Island, off the coast of Maine, from late September (next week!) to late October; and on a Wedge-billed Woodcreeper tracking project at Tiputini Biodiversity Station, in eastern Ecuador, from January to April, so stay tuned for more adventures.