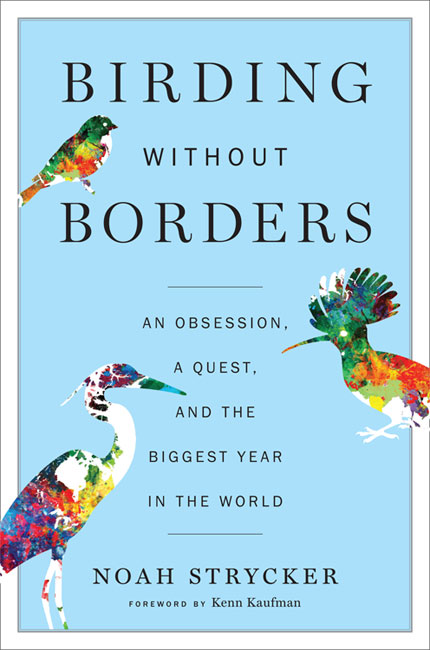 A Story of Nature and the Human Spirit
In 2015, Noah set himself a lofty goal: to become the first person to see half the world's birds in one year. For 365 days, with a backpack, binoculars, and a series of one-way tickets, he traveled across forty-one countries and all seven continents, eventually spotting 6,042 species—by far the biggest birding year on record.
This is no travelogue or glorified checklist. Noah ventures deep into a world of blood-sucking leeches, chronic sleep deprivation, airline snafus, breakdowns, mudslides, floods, war zones, ecologic devastation, conservation triumphs, common and iconic species, and scores of passionate bird lovers around the globe. By pursuing the freest creatures on the planet, he gains a unique perspective on the world they share with us—and offers a hopeful message that even as many birds face an uncertain future, more people than ever are working to protect them.
This book will be released on October 10, 2017. You can pre-order from Amazon here.
Advance Praise for Birding Without Borders
"What an astonishing peregrination. If by chance you can't meet these 6,042 species yourself, this book is a close second. Strycker is the perfect companion—smart, thoughtful, intrepid, and at times, very very funny. I loved the birds and the people he met and was sorry when his journey was over."
— Jennifer Ackerman, author of The Genius of Birds
"Birding without Borders is about bird nerdery taken to a magnificent, even beautiful extreme. Noah Strycker goes from country to country seeking out five thousand species of birds, and that quest is an adventure in itself. Armchair birders like myself, watching a Pygmy Nuthatch watching me, can appreciate the passion and courage that Noah displays."
— Craig Newmark, founder of Craigslist
"Every generation has a few naturalist-writers who have a spirit as unlimited as their talent—that's Noah Strycker. The sheer demographics of his travels are mind boggling; he stretches life to the limits, and he has an ability to describe incidents of travel, landscapes, and people with splendid and self-deprecating intimacy. This book goes to the top of my life-list."
— Howard Norman, author of My Darling Detective
"Birding Without Borders is an absolute tour de force. Every birder knows the day-dream lure of exotic species from far-away places, but Noah Strycker turned that dream into the greatest birding adventure of all time. The story of his round-the-world Big Year is one of joy, adrenaline, exhaustion, discovery, and a global fellowship of those for whom, like Noah, birds are everything.  I guarantee it will make you want to grab your binoculars and your passport, too."
— Scott Weidensaul, author of Living on the Wind
"Noah Strycker is a fantastic birder, savvy traveler, and astute observer. Best of all, though, he is a fine writer. I really enjoyed this book."
— Mark Obmascik, author of The Big Year
"Noah Strycker's ark is big enough for six thousand birds—and then some!—but just as impressive is the way this gifted gatherer makes room for wonder, joy, and friendship found in far-flung places. This is one of those rare, beautiful books that enlarges the world with adventure and makes it feel, at the same time, like a mysteriously intimate place, inhabited by good people in love with the natural world willing to help a stranger on his extraordinary journey."
— Jonathan Rosen, author of The Life of the Skies