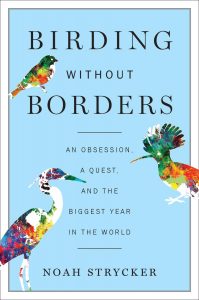 Birding Without Borders
An Obsession, a Quest, and the Biggest Year in the World
In 2015, Noah Strycker traveled and birded the world for 365 consecutive days on a shoestring budget, setting a new world Big Year record — 6,042 species — but also getting to know birders in more than 40 countries.
Along the way he slept on floors, in cars and in hostels, and met fellow bird addicts who ranged from local teens who could barely afford binoculars to top scientists and a U.S. ambassador.
In fall 2017, Houghton Mifflin Harcourt will publish Noah's account of this remarkable journey.