THE THING WITH FEATHERS
The Surprising Lives of Birds and What They Reveal About Being Human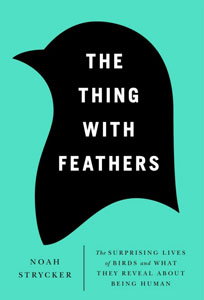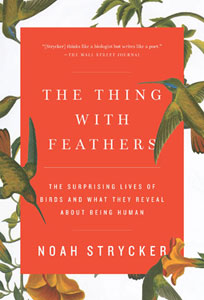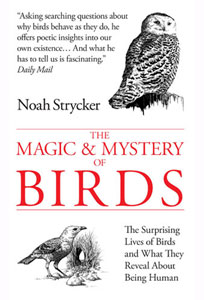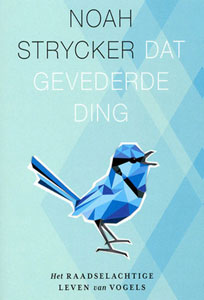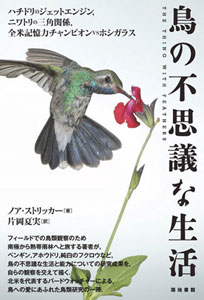 Birds are highly intelligent animals, yet their intelligence has been little understood.
As scientists come to understand more about the secrets of bird life, they are unlocking fascinating insights into memory, game theory, and the nature of intelligence itself.
The Thing with Feathers explores the astonishing homing abilities of pigeons, the good deeds of fairy-wrens, the influential flocking abilities of starlings, the deft artistry of bowerbirds, the extraordinary memories of nutcrackers, the lifelong loves of albatross, and other mysteries – revealing why birds do what they do, and offering a glimpse into our own nature.
Drawing deep from personal experience, cutting-edge science, and colorful history, Noah spins captivating stories about the birds in our midst and reveals the startlingly intimate coexistence of birds and humans. With humor, style, and grace, he shows how our view of the world is often, and remarkably, through the experience of birds. Beautiful and wise, funny and insightful, this book is a gripping and enlightening journey into the lives of birds.
The Thing With Feathers reached the New York Times bestseller list in paperback and was well reviewed by People magazine, The Economist, Newsweek, NPR, the scientific journal Nature, and many others. It has been translated into several languages.
"An engaging work which illuminates something profound about all life, including our own."
"[Strycker] thinks like a biologist but writes like a poet."
"As Strycker writes, 'By studying birds, we ultimately learn about ourselves.'"
"This exploration of the lives of birds is perfect for spring."
"A lively and vibrant book. Bird journalism of the highest order."
"[A] fun and enlightening read. Strycker knows words as well as birds."
"Mr. Strycker has the ability to write about the worlds of man and fowl without simplifying either… He thinks like a biologist but writes like a poet, and one of the small pleasures of The Thing with Feathers is watching him distill empirical research into lyrical imagery… Although Mr. Strycker is only in his late 20s, he writes like a man who's ripened into advanced eccentricity. Part the palm fronds behind his sentences, and you can almost see the British naturalist and broadcaster David Attenborough standing there in a pith helmet, smiling with amused approval at Mr. Strycker's off-center sensibility."
-THE WALL STREET JOURNAL
"Intelligence, altruism, self-awareness, love… Strycker is especially engaging describing his own fieldwork with penguins and albatrosses… As Strycker writes, 'By studying birds, we ultimately learn about ourselves.'"
-NEW YORK TIMES BOOK REVIEW, EDITOR'S CHOICE
"Did you know that nutcrackers have great memories? That penguins are afraid of the dark? This exploration of the lives of birds is perfect for spring."
-PEOPLE MAGAZINE
"The Thing with Feathers turns a shrewd, comparative eye on a succession of bird families to explore what [Strycker] calls their 'human' characteristics… This is an engaging work which illuminates something profound about all life, including our own."
-THE ECONOMIST
"Birds intrigue humanity, and in this research round-up Noah Strycker reveals why – in marvels such as the equal-radius paths of flocking starlings and the decontamination chamber that is a vulture's stomach. As he notes, such findings can mirror human realities."
-NATURE
"[A] fun and enlightening read. Strycker knows words as well as birds; he has the literary chops to make the results of very complex experiments accessible."
-NEWSWEEK
"Strycker has a keen eye for what is most interesting about each species, and he presents each bird story with tight language, humor and even an occasional splash of self-consciousness… This is a lively and vibrant book. Bird journalism of the highest order. Bird journalism that crackles."
-THE WASHINGTON POST
"One of the best bird books you'll read this decade. Guaranteed."
-BIRDWATCHING MAGAZINE
"Beautifully written, filled with strange and lovely details, The Thing with Feathers is a delightful read from start to finish."
-THE BOSTON GLOBE
"It is Strycker's ability to see and draw connections between bird behavior and humanity that make The Thing with Feathers difficult to put down… The Thing with Feathers encourages reflection on one's own assumptions about the perceived limitations of the animal kingdom."
-THE OREGONIAN
"Strycker marshals original reporting and scientific studies to argue the simple yet radical notion that birds have something to teach us about our own humanity. Spend some time with this book."
-AUDUBON
"Noah Strycker all but lassos readers with his binocular strap to bring people nose to beak with the plumed creatures he knows so well… [an] edifying and entertaining book."
-SCIENCE NEWS
"Lovely, provocative…"
-ROBERT KRULWICH, NPR
"Fascinating"
-MINNEAPOLIS STAR-TRIBUNE
"The Thing with Feathers will encourage you to take a closer look at the natural world around you, and perhaps learn more not only about what you see but who you are."
-SEATTLE TIMES
"[Strycker] combines the latest in ornithological science with snippets of history and his own vast experience in the field to hatch a thoroughly entertaining examination of bird behavior… In Strycker's absorbing survey, we find out how much fun it is simply to watch them."
-BOOKLIST, STARRED REVIEW
"[Strycker's] prose is difficult to stop reading."
-PUBLISHERS WEEKLY
"A delightful book with broad appeal."
-KIRKUS REVIEWS
"A dazzling variety of avian subjects, including connections between birds and humans."
-LIBRARY JOURNAL
"An exciting new book."
-MENTAL FLOSS MAGAZINE
"There's bird watching, then there is obsessing over why nearly 2,500 different species do the things they do. That's Noah Strycker, and this lovely book is compelling to those who chart the different birds they see on walks, and the rest of us who just gaze longingly at them as they fly through the air."
-FLAVORWIRE
"Noah Strycker explores the increasing likelihood that birds enjoy a vastly richer intellectual, emotional and even artistic life than we smug humans have ever suspected. Read this book."
-SCOTT WEIDENSAUL, AUTHOR OF "LIVING ON THE WIND" AND "THE FIRST FRONTIER"
"As the 'owner' of a dancing Green-cheeked Conure, as a life-long pigeon-lover, seabird researcher, and falcon enthusiast, I can tell you that not only is this book full of solid information – I expected that – but as a writer I am astonished at how loose and easy Noah Strycker has made the reading for us. This is an insightful and wonderfully companionable book. I can't wait to read more from Strycker; meanwhile we have this gem."
-CARL SAFINA, AUTHOR OF "SONG FOR THE BLUE OCEAN" AND "THE VIEW FROM LAZY POINT"
"A thoughtful, engaging book, encompassing pigeon races, physics, vulture baiting, the Backstreet Boys, and a mathematical model applicable to both tennis rankings and chicken hierarchies – a work of dazzling range, nimbly written."
-BRIAN KIMBERLING, AUTHOR OF SNAPPER
"I've read books about birds all of my life and this is the one I've been waiting for. Birds have a great deal to teach us. Strycker loves birds, understands their magic and mystery, and can extrapolate from their behavior wisdom for us all. At last we have a book worthy of this subject."
-MARY PIPHER, AUTHOR OF THE GREEN BOAT
Amazon Customer Reviews
(4.4 Stars)
"Well-written, informative."
"The book made me rethink many of my conclusions regarding how animals and humans really differ."
"A remarkable collection of home-truths about birds and people."
"Perfect book for your spring & summer reading list."
"Great beach book."
"Fascinating and fun to read."
"Birds like all life are fascinating, and so is Noah's book."
"The Bill Bryson of ornithology."
"A great read whether or not you're a bird watcher."
"Beautifully written."
"A surprising book on birds and what it reveals."
"Looking for a refreshing insight to bird watching."
"A good read from a great perspective, with great illustrations."
"Birds in a new key."
"Yeah, I liked this one a whole bunch."
"Loved it."
"Wonderful bird facts and stories."
"I hated to finish it type book."
"Entertaining and beautifully written. Philosophy of life."
"Insightful exploration of the relationship of birds and humans."
"Five stars."
"This is an absolutely delightful book."
"'Read out loud' enjoyable, and you don't have to love birds."
"Worth the read."
"You'll love this book."
"The wonder and intelligence of birds."
"Best nature book I have ever read."
"I liked this book so much I will buy additional copies…"
"Fantastic book about our feathered friends!"
"Wonderful book!"
"Terrific! I wanted more."
"Fascinating look at our avian friends."
"Fascinating."
"Wonderful account of various bird behaviors that takes in so much more than ornithology."
"Passionately written stories comparing birds and humans."
"Amazing."
"Fabulous read. Very enjoyable and informative with a light sense of humor."
"BEST ever book on birds!!!!!!"
"Thought provoking and fascinating."
"Such a fun book. Worth the purchase just for the chapter on hummingbirds!"
"Insightful, vast in its reach."
"Fascinating book!"
"Wonderful. If you like birds and some science you'll love it."
"Fantastic book! Noah is a great writer and a wonderful birder."
"Excellent."
"If you are into birds then buy this book!"
"Buying this for all my bird-lover friends and relatives."
"Each story helps you appreciate how intriguing these birds are."
"I was surprisingly drawn in and found it completely fascinating."