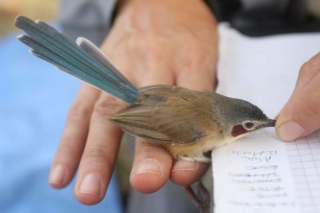 Michelle, Sara and I got up at 4am this morning, packed mist-netting and banding gear into the truck, and drove a 4×4 road to a particular Purple-crowned Fairy-Wren territory in hopes of mist-netting the wrens there.
Fairy-Wrens are cooperative breeders, so many territories have more than one male and/or female. Groups can be as large as eight individuals, all of which help tend one nest. Today's group had three; an adult male, adult female, and subdominant male, all of which we hoped to catch in the nets.
After several hours, we'd caught two of the three target Fairy-Wrens, as well as several incidental Yellow-tinted Honeyeaters, a pair of Buff-sided Robins, a Willie Wagtail, and a Striated Pardalote which became ensnared in the nearly-invisible netting. We measured each of the wrens extensively, took photos, blood samples, and sperm samples, and released them; in between, the three of us lounged on the riverbank in a shady, grassy spot, glad to be out of the furnace for a while (by noon, it was well over 100 F, as usual).
https://noahstrycker.com/wp-content/uploads/2017/05/transparentblacksubheader.png
0
0
Noah Strycker
https://noahstrycker.com/wp-content/uploads/2017/05/transparentblacksubheader.png
Noah Strycker
2010-03-12 00:58:52
2010-03-12 01:01:42
Mist-netting Fairy-Wrens