Two-Day Fairy-Wren Survey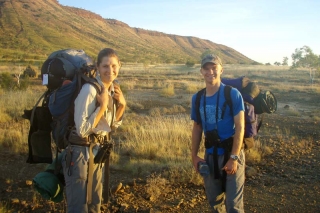 Thursday and Friday, Sara and I spent every waking moment surveying for Purple-crowned Fairy-Wrens along the Throssel River — a backcountry stretch too long to cover in one day.
We got up at 3:30 on Thursday morning and Michelle drove us more than an hour from Mornington Station, dropping us at dawn along a rough track near an escarpment called the Cliffton Range — pretty much the middle of nowhere. From that spot, Sara and I picked up the Throssel River and followed it south for 13 kilometers of dense, off-trail hiking, stopping every 100 meters to play a 2-minute tape recording of fairy-wren songs (and observing birds which responded to the tape).
The Throssel is particularly known for being infested with crocodiles, of which we saw a good assortment. A year and a half ago, a student looking for Purple-crowned Fairy-Wrens stepped into the water here to find a large croc latched around her knee. The croc wouldn't let go, and the muddy river banks were too steep to climb out with the animal attached to her leg; luckily, someone else was there to pull her out, croc and all. They had to gouge its eyes out before it relented and flopped back into the muddy water. The student had to be evacuated by helicopter to Derby (a couple hours away), and subsequently underwent surgery back in the U.S. to reconstruct her kneecap. They say such attacks are extremely rare, but, six months later, a staff member at Mornington was bit in the calf while swimming and still has the scars to prove it. Two croc bites in two years at a place with an average population of 12 people – it's something, that's all I'm saying.
Anyway we went all-out, hiking and surveying, dawn to dark on Thursday, 12 hours straight with just a short lunch break. We went right through the heat of the day, over 100 degrees F, carrying 11 liters (25 pounds) of water in each of our packs, wearing long pants, and just generally gutting it out through thick grass, hot river rocks, and spiky pandanus stands. When it got dark we rolled out sleeping mats and flopped down to sleep at 6:30 p.m. under the stars, but mosquitoes descended with darkness, and I was up for 4 more hours alternately swatting mosquitoes and hiding from them under my sauna-like sleeping bag before it was cool enough to sleep. A kilometer or two in the distance, five prescribed fires burned like molten lava, lighting up the night underneath a half moon.
Friday morning Sara and I finished our survey, walked out to a road, and radioed for a pickup. It was sure nice to return to the land of air conditioning and smoothies – but not for long; this afternoon we're headed for another night of camping. This time, though, it's just for fun; four of us are climbing nearby Mt. Leake with plans to sleep under the stars tonight on the highest point in this region. We'll see how it goes!
https://noahstrycker.com/wp-content/uploads/2017/05/transparentblacksubheader.png
0
0
Noah Strycker
https://noahstrycker.com/wp-content/uploads/2017/05/transparentblacksubheader.png
Noah Strycker
2010-04-24 12:47:06
2010-04-25 00:25:31
Two-Day Fairy-Wren Survey