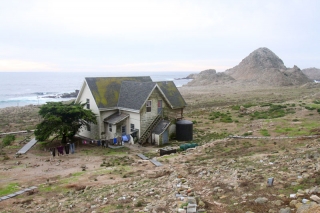 We live in this 140-year-old wooden house overlooking the Pacific. It's got creaks and groans, sure, but it sure beats a tent – actually, inside, the house is nice and cozy, especially during foul weather, which we're getting more and more of as winter looms past Halloween. (Speaking of Halloween, there's supposed to be a ghost here – a lady in white – but I haven't seen it yet. Maybe tomorrow the spirits will come out to play.)
Fresh water comes from collected rainwater, which is precious enough that I get one quick shower a week. Wednesdays are my shower day. At least it helps keep track of time, looking forward to my next shower; otherwise I'd have no reason to count off days. Every day on Southeast Farallon Island is equally full of the expected and unexpected.
Like this afternoon, when Liz found another (!) Summer Tanager lurking on Cormorant Blind Hill. That makes two in three days. Jim hadn't seen one here in ten years of biologizing. Cool stuff. I was happy enough to be out of the rain for a bit; yesterday we got an inch and a half. At least it filled up the water tanks: showers in the bank!
https://noahstrycker.com/wp-content/uploads/2017/05/transparentblacksubheader.png
0
0
Noah Strycker
https://noahstrycker.com/wp-content/uploads/2017/05/transparentblacksubheader.png
Noah Strycker
2010-10-31 10:38:11
2010-10-31 10:38:31
Home On The Island