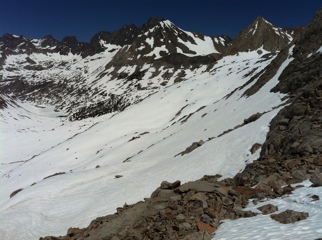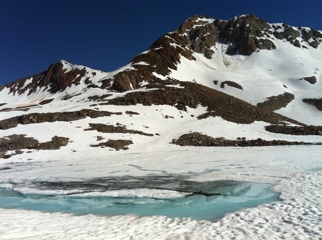 Some say that Mather Pass is the most dangerous section of trail on the entire PCT; deep inside a remote part of Kings Canyon National Park, Mather links two Sierra peaks with a thin, cornice-topped knife ridge, more than 12,000 feet high, and extremely steep-sided.
It certainly depends on weather and snow conditions, but I didn't see the big deal. The hardest part was the approach; it took five hours to fight six miles uphill through sun-cupped and slushy snowfields to the base of the pass. Sure, there was a steep traverse at the top, but kicked-in steps and a good hold on my ice axe made it quite safe.
I glissaded down the back side with Goodness, Zm, Skipper, and Dane, and, after a few more miles of snow travel, we dropped low enough to find exposed trail (!) at an endless series of switchbacks called the Golden Staircase (or, as one guidebook mistyped, the Golden Suitcase) which led into a remarkably lush, snow-free valley. On regular dirt tread for the first time in several days, we logged a gloriously fast ten miles in late afternoon and stopped to camp at 9:00 pm after a very long 21-mile day, ready to hit Muir Pass in the morning.
https://noahstrycker.com/wp-content/uploads/2017/05/transparentblacksubheader.png
0
0
Noah Strycker
https://noahstrycker.com/wp-content/uploads/2017/05/transparentblacksubheader.png
Noah Strycker
2011-07-01 19:50:44
2011-07-01 19:50:44
Mather Pass