Strawberries On A Mountain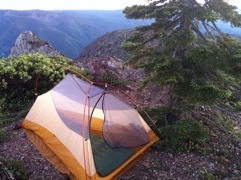 For the first time in almost four weeks I dropped below 6,000 feet, hiked on clear trail all day, and even broke a sweat because it was summery and warm outside. No snow at all! Kind of ironic, then, that today's top headline in the Reno newspaper was "Snow Bogs Down Hikers." I put in about 17 miles, not including a several-hour detour into Sierra City to resupply, shower, and drink a couple of large milkshakes (one chocolate, one banana).
For this section I'm trying something new and delicious. I stuffed an entire gallon-sized ziplock full of fresh produce bought at the general store in Sierra City – strawberries, blueberries, bananas, green peppers, and mushrooms – and tucked it carefully to avoid smashing in my pack. Never mind that it weighs a couple extra pounds, or that the peppers turned out to be spicy jalapeños; fresh fruit in the wilderness is almost too wonderful to be believed, and I just ate an awesome dinner at camp high on an exposed ridgetop, watching the panoramic sunset. Life is good.
https://noahstrycker.com/wp-content/uploads/2017/05/transparentblacksubheader.png
0
0
Noah Strycker
https://noahstrycker.com/wp-content/uploads/2017/05/transparentblacksubheader.png
Noah Strycker
2011-07-21 20:25:17
2011-07-21 20:25:17
Strawberries On A Mountain