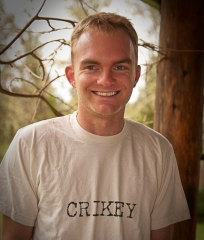 Day after tomorrow, I'll board a plane here in Eugene, Oregon. Two days later, I'll arrive in Australia (skipping over the international date line, of course) – right in the middle of summer.
I will spend the next six months ('til August) working  at Mornington Station in the Kimberley, one of the greatest wilderness areas left on Earth, in northwest Australia. The Kimberley is an area of the Outback the size of California, crossed by only one paved road. Only 40,000 people live there (compared to 37 million in California!), mostly in three small towns (Broome, Derby, and Kununurra, none of which have more than 5,000 people), and between one third and one half are of Aboriginal descent.
It's an extreme place. In the hot, wet season ("The Wet"), from October to March, highs can be around 110 degrees F. The rest of the year, it's only 95. Poisonous snakes, biting insects, heat, and isolation are familiar, daily attributes of life in the Kimberley.
So, why do I want to go there? Researchers at Mornington Station, an old cattle station turned wildlife reserve, have been working with Purple-crowned Fairy-Wrens – a tiny, beautiful, endemic, endangered bird – for more than a decade, and I've signed on to help with field work this year. I will be searching for nests, color banding individual birds, and observing their behavior six days a week. Meanwhile, I'll get a taste of life in the real Outback. I hope you enjoy the journey!
https://noahstrycker.com/wp-content/uploads/2017/05/transparentblacksubheader.png
0
0
Noah Strycker
https://noahstrycker.com/wp-content/uploads/2017/05/transparentblacksubheader.png
Noah Strycker
2010-02-25 10:10:16
2010-02-26 19:37:02
Bound for Australia