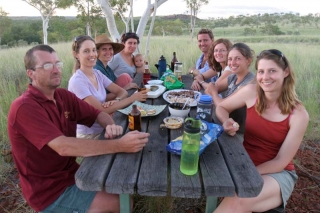 There's a big white board outside the research lab at Mornington Station for general updates, scheduling, and communication. Today it said "drinks and snacks for sunset on the hill – 5pm."
So, after another long day in the field with Fairy-Wrens, people gathered in late afternoon to make the short drive to a nearby escarpment, where a picnic table overlooks an expansive surrounding region of bush. In the distance, red bluffs meld with green trees and brown grass. As the sun went down, most of the Mornington crew munched on various tasties and meditated on life beyond the "real" world. And played with Taegan's 7-month-old baby, Archer. Sometimes, life is simply incomparable.
Most everyone was in bed by 7pm, even on a "social" evening. I'm still up at 7:30 because I got 10 hours of sleep last night, even though my alarm went off at 4:30am (as usual) – work that one out! Anything after about 8:30 goes by "Mornington Midnight" and is a dark hour indeed.
https://noahstrycker.com/wp-content/uploads/2017/05/transparentblacksubheader.png
0
0
Noah Strycker
https://noahstrycker.com/wp-content/uploads/2017/05/transparentblacksubheader.png
Noah Strycker
2010-03-19 19:32:45
2010-03-19 19:32:45
Sunset Patrol