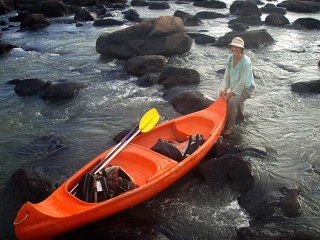 Michelle and I rose early this morning – 4am – because we had a big project for today: surveying 13 kilometers of the Fitzroy River for Fairy-Wrens, by canoe.
Julie drove us out to Sir John Gorge in predawn darkness and paused there just long enough to see us drag the canoe down the rocky bank – a task that would become all-too-familiar throughout the rest of the day – before hightailing it back to station for breakfast. Michelle and I, with radios, provisions, and drybags (er, trash bags; don't ask), hopped in the canoe and set off downriver.
Nine hours later, we hauled out at a prearranged point downriver, called for a pickup by radio, and gratefully extracted sore butts and backs to shore. In the interim, we stopped every hundred meters or so to play a 2-minute recording of Purple-crowned Fairy-Wren song in hopes of finding birds along the riparian strip. As it turned out, we found just three birds: a lone female, unbanded, and a banded pair that Michelle already knew about.
Most entertaining, though, were various sets of rapids. Unfortunately, the ongoing drought has resulted in lower-than-usual water levels, so we often got stuck on rocks and had to drag the canoe through whitewater. I think we did that eight separate times. A few rapids shot us like an amusement ride, and I could see why, on the last two surveys of this river, the canoe flipped at some point. No such catastrophes today; just a nice day on the river!
https://noahstrycker.com/wp-content/uploads/2017/05/transparentblacksubheader.png
0
0
Noah Strycker
https://noahstrycker.com/wp-content/uploads/2017/05/transparentblacksubheader.png
Noah Strycker
2010-04-09 21:32:23
2010-04-09 21:32:23
Canoe Survey