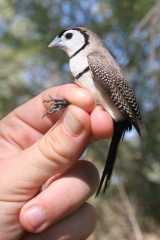 Michelle, Joey and I headed out early to catch two particular fairy-wrens which hadn't been banded yet (meaning they are immigrants to the Annie Creek population). Basically, we try to predict where the wrens will fly, set up mist nets in those areas, wait, and hope.
Last time we tried this, we got up at 4:30am, set up the nets, spent six hours staring at them, and went home without having caught anything. But today it worked perfectly! Must have been time for some good mistnetting mojo around here, because both target birds flew straight into the mesh. As a bit of a bonus, we also caught four Yellow-tinted Honeyeaters, a Restless Flycatcher, and a Double-barred Finch – always fun to get some bycatch!
Winter has set in across northern Australia, and the weather couldn't be better. Every single day is sunny, not a cloud in the sky, highs in the upper 90s F (35 C), lows in the 40s (9 C). June and July are the best months here. It's high season at Mornington.
https://noahstrycker.com/wp-content/uploads/2017/05/transparentblacksubheader.png
0
0
Noah Strycker
https://noahstrycker.com/wp-content/uploads/2017/05/transparentblacksubheader.png
Noah Strycker
2010-06-28 14:44:26
2010-06-28 14:50:43
Mistnetting