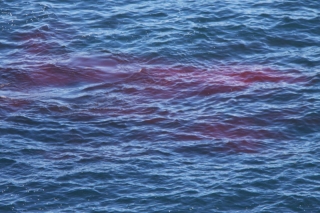 Yesterday I spotted a shark attack from the top of the lighthouse. Attacks are pretty obvious: look for the bright red patch of blood on the water, the cloud of wheeling gulls, and the thrashing shark. We're starting to see Great Whites pretty consistently this season. Pretty cool.
Otherwise, things have been crowded. Yesterday there were 15 people on the island! We've hosted maintenance guys, a team of mouse killers, invasive plant pullers, upper management, and some rich dudes (potential donors) including one sorta famous guy who played in the band called Third Eye Blind. Luckily there was a spectacular shark attack right after the donors arrived.
In the last couple days we've had two Black-throated Blue Warblers, three Blackpoll Warblers, two Palm Warblers, a Sage Thrasher, and Clay-colored, Brewer's, Chipping, and White-throated Sparrows. Yesterday we watched a massive feeding flock behind a fishing boat that included 1,500 Sabine's Gulls, 22 Black-footed Albatrosses, and a bunch of shearwaters. Wonder what's next?
https://noahstrycker.com/wp-content/uploads/2017/05/transparentblacksubheader.png
0
0
Noah Strycker
https://noahstrycker.com/wp-content/uploads/2017/05/transparentblacksubheader.png
Noah Strycker
2010-10-15 00:00:54
2010-10-15 00:02:24
Blood in the Water