Sharks, Sharks, Sharks, Sharks, Sharks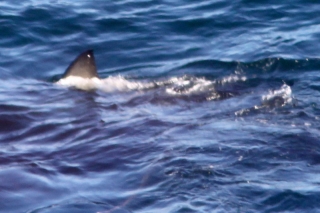 It's getting sharky around here. This is peak Great White season at the Farallones, and shark attacks are happening almost every day (today we saw two). Each of us spends two hours each day observing from the lighthouse – the highest point on the island –  and I've now watched sharks dismembering seals three days in a row on my shift. It doesn't get any less bloody spectacular.
We're not the only ones interested in the sharks. Commercial cage-diving boats from San Francisco anchor here almost every day (patrons pay $700 for their chance to face a Great White underwater) and there's a Stanford shark research crew with a  swanky sailboat. We often call down shark attacks via marine radio, then watch the boats suddenly hustle toward the action (in return, they help ferry gear and people to the island). Yesterday I alerted the research crew to an attack in progress, and, after they'd hurried to film the action up close, they called back. "Hey, we picked this dead bird out of the water," they said. "Looks like a whistling-duck. You want it?" A whistling-duck would be rare indeed, so a handoff was arranged; the boat eased up to North Landing just long enough to throw across the carcass. It turned out to be a White-fronted Goose (oh well). The waterlogged goose is now sitting on our front step, where a Western Gull with a broken wing is scavenging away, in between scarfing mouse-trapped mice I've been throwing out my second-story window.
It rained this morning, the first rain I've seen here. A few good birds are around: Chestnut-collared Longspur, Blackpoll Warbler, Palm Warbler. Dan is making friends with the ravens. Three weeks down, seven to go.
https://noahstrycker.com/wp-content/uploads/2017/05/transparentblacksubheader.png
0
0
Noah Strycker
https://noahstrycker.com/wp-content/uploads/2017/05/transparentblacksubheader.png
Noah Strycker
2010-10-18 14:02:41
2010-10-18 14:02:41
Sharks, Sharks, Sharks, Sharks, Sharks