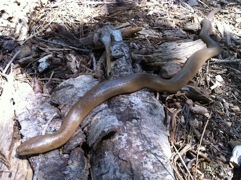 Honeybuzz and I hiked 30.3 miles today, my longest yet, with a leisurely seven a.m. start and a two-hour lunch break at the Feather River.
Near the end of a 4,000-foot descent to the river, Honeybuzz was about 100 feet ahead of me when he spooked a Mountain Lion off the trail. I heard a faint rustling in the leaf litter and looked up just in time to catch the big cat sprinting away downslope at full speed through the oak trees, gone in a second; Honeybuzz also heard it but unfortunately didn't see anything. Last week I followed cougar tracks for about a mile along a snowy section of trail, on top of the prints of hikers just a couple hours ahead of me (and heading the same direction…) but to actually see a Mountain Lion, however briefly, was unexpected and awesome! We also found a Rubber Boa on the trail this morning, my second in three days, and I was pleased to stumble into a colorful King Snake today – a good day for wildlife.
At about eight p.m. we had just hit 30 miles after climbing 3,000 feet up from the river and were searching for a flat spot to camp when the trail suddenly bisected a remote gravel road. As I stepped out to cross it in the dusk, an SUV came flying around the corner, headlights flashing – it was Honeybuzz's dad, who had teamed up with a local trail angel named Nancy while visiting. Somehow, incredibly, they drove up to leave a note at that intersection at the exact moment we hit it; ten seconds either way and we'd have missed each other. Within 30 minutes I was being fed a burger and barbecued ribs. And, instead of my tent, I'm sleeping on the back deck of a beautiful two-story cabin in the woods tonight, showered, with breakfast promised in the morning. Who knew?
https://noahstrycker.com/wp-content/uploads/2017/05/transparentblacksubheader.png
0
0
Noah Strycker
https://noahstrycker.com/wp-content/uploads/2017/05/transparentblacksubheader.png
Noah Strycker
2011-07-23 22:20:54
2011-07-24 16:28:32
Mountain Lion!