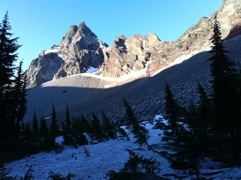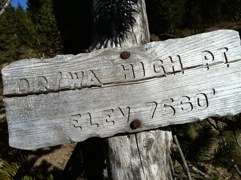 For the sake of health, restoration, and knee preservation, I've decided to divide my next two days into three – thus building in an entire extra day before reaching Willamette Pass. This means three sub-20-mile days in a row, and a lot of free time on the trail.
Sounds good in theory, but it's a big challenge to slow down that much, even for just a couple of days, after averaging 26 miles/day over the last month. It was as much as I could stand to stop after only 17.7 miles today, having spent the entire day in self-enforced slow motion – especially since the trail was flat and easy, with my inner racecar driver aching to push twice as far.
I did see my second bear of the trip this afternoon, a big black one which ambled across the trail right in front of me. And, though I hit a couple miles of big snowdrifts over the trail near Mount Thielsen, that section wasn't nearly as bad as recent reports had indicated – I didn't even need my GPS, much less traction spikes. Pshaw.
https://noahstrycker.com/wp-content/uploads/2017/05/transparentblacksubheader.png
0
0
Noah Strycker
https://noahstrycker.com/wp-content/uploads/2017/05/transparentblacksubheader.png
Noah Strycker
2011-08-19 18:50:17
2011-08-19 18:50:17
Slow Motion