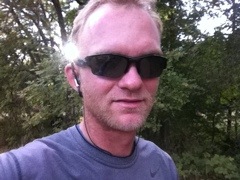 On the PCT this summer, I was all about consistency. I never tried a truly huge day (my biggest was 35.8 miles), but, increasingly, I found myself wondering: given easy trail and a light pack, how far could I really hike in one 24-hour period? (No running allowed). What if I walked from midnight to midnight?
Today, a week after finishing the PCT, it was time to find out. I'll probably never be in better shape to attempt a 24-hour hike. In the interest of carrying as little as possible, I decided to park my car at a strategic location near some running paths in south Eugene and use it as a resupply station between a series of loops.
I started walking at 12:08 am, using a GPS to measure mileage. For six hours I walked in the dark, dodging Friday-night revelers and a sneaky skunk while waiting for the sun to come up. By dawn I'd already logged 21 miles, off to a good start.
I hit 30 miles before 11 am, somewhere on the Ridgeline Trail near Spencer Butte; I worried about my legs feeling tight, but kept a steady pace with few breaks. The afternoon was tough mentally, not close to the beginning or end, so I did a bunch of laps around the Rexius Trail and hit 50 miles around dinnertime. With legs like iron, I pushed on into the night and finally, mercifully stopped at 11:42 pm, having walked 64.0 miles (103 kilometers) in less than 24 hours!
I drove home, pulled on compression tights (purchased last year when I ran a marathon in Australia and flew home to Oregon the same afternoon), and collapsed into bed, having slept less than two hours of the previous 40. What a day! This summer has definitely redefined my perception of reasonable mileage. But, now, I'm done with long walks for a while – promise!
https://noahstrycker.com/wp-content/uploads/2017/05/transparentblacksubheader.png
0
0
Noah Strycker
https://noahstrycker.com/wp-content/uploads/2017/05/transparentblacksubheader.png
Noah Strycker
2011-09-24 22:55:11
2011-09-25 17:25:32
A 64-mile Dayhike