That Big Bad Birding Movie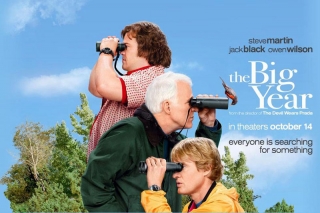 Half an hour ago, I watched closing credits roll on
The Big Year
at our local theater in Eugene. It's been out for more than two weeks, so I'm probably the last birder on Earth to have seen it. But, hey, I've been living on a remote island in Maine for the last month; what can you do? (Yep, I'm back home in Oregon now, beginning a big new project – so stay tuned).
I'm lucky to have caught the movie still in theaters. It cost $57 million to make and has grossed a pitiful $7 million at the box office. People haven't exactly been flocking to see a film about competitive birdwatching, even if it does star Jack Black, Owen Wilson, and Steve Martin. And, after seeing it myself, I admit: it won't win any Oscars. At least the birds were accurate… more or less.
But who cares? I had heard that Birding magazine, where I work as Associate Editor, features prominently in several scenes. Sure enough, the climax of the whole movie arrives with the latest issue of Birding (a real mockup with Owen Wilson on the cover) and the main characters rushing to their mailbox to tear it open. How often does your magazine show up in a major Hollywood motion picture?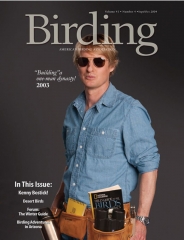 Awesome.
It's been fascinating to follow the whole process of this movie being made – first the three crazy birders vying to break the North American big year record in 1998, then Mark Obmascik's page-turning book about their endeavors (which I have read several times – guess I'm a nerd), then, incredibly, the announcement of a partially fictionalized Hollywood version of the story to be filmed and released in 2011, with a couple characters based on people I know personally. Over the past few months, I've watched with amusement as birders across the country posted excited updates on various email lists: Steve Martin talked about eagles on Letterman! stills have been leaked! the poster is here! the trailer is out! this will change the face of birding!
That last sentiment was probably a bit hopeful, and, in a bizarre discussion on the American Birding Association's blog this week, led to a snipey argument about whether the American public is too dumb to enjoy birding. Eh, whatever. Me, I enjoyed watching the movie because I enjoy watching birds, and, yes, I enjoy watching people watch birds. But I'm not holding my breath for The Big Year 2…
https://noahstrycker.com/wp-content/uploads/2017/05/transparentblacksubheader.png
0
0
Noah Strycker
https://noahstrycker.com/wp-content/uploads/2017/05/transparentblacksubheader.png
Noah Strycker
2011-11-03 12:06:47
2011-11-04 16:31:58
That Big Bad Birding Movie