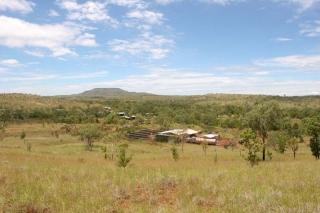 Michelle and I spent this afternoon guiding a couple of visitors. Two guys are at Mornington this week with 30 remote, motion-activated cameras. The idea is to point the cameras at bird nests, leave them in place, then download the images later. If it works, we'll get photos of predators at Fairy-Wren nests, and see what's eating the baby birds.
Of every five Purple-crowned Fairy-Wren nests with eggs, only one will fledge at least one chick. Predators eat the rest (except for a few that are flooded during rainstorms). The most regular villains are probably goanas (5-foot-long lizards) and snakes, but who knows? We'll have to check the photos. With these cameras, we'll even be able to tell what's happening at night, because they switch to infrared during darkness – except, of course, if a cold-blooded snake hits the nest at night, the infrared won't pick it up.
Another sunny day here, hot, sweaty, and sticky. Yesterday I hiked up a small escarpment next to camp to get an overview of Mornington Station. In every direction, arid bush undulated unbroken to the horizon – this is really the middle of nowhere!
https://noahstrycker.com/wp-content/uploads/2017/05/transparentblacksubheader.png
0
0
Noah Strycker
https://noahstrycker.com/wp-content/uploads/2017/05/transparentblacksubheader.png
Noah Strycker
2010-03-15 17:05:17
2010-03-15 17:05:17
Camera Traps