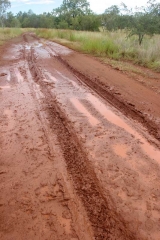 Last night I woke, startled, at 1am, to an unfamiliar sound: raindrops drumming on a tin roof. Lightning and thunder rocked Mornington Station for a couple hours.
Overall, we got 44.4 mL (1.75 inches) of rain overnight – the most precipitation in any 24-hour period in almost a year! March usually marks the end of "The Wet" – six months of scattered rainfall – but this wet season has been about the driest on record in northwest Australia, so last night's thunderstorm was greeted with enthusiasm.
Lingering clouds made for a nice, cooler morning, in marked contrast to yesterday's more-typical high of 41.9 C (107.5 F). Roads are now impassable muddy messes, and the creeks have flooded their banks (no canoeing today). One river that I waded just four inches deep last week is now too high and swift to swim across safely. We're stranded at Mornington – not a bad predicament!
https://noahstrycker.com/wp-content/uploads/2017/05/transparentblacksubheader.png
0
0
Noah Strycker
https://noahstrycker.com/wp-content/uploads/2017/05/transparentblacksubheader.png
Noah Strycker
2010-03-14 03:59:27
2010-03-14 04:03:21
Rain in the Desert