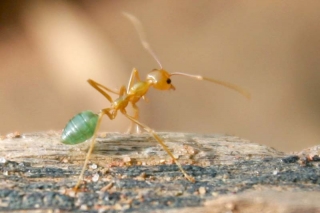 While hacking through the hot, riparian jungle, we encounter a lot of bugs (and, once a month, even sample them scientifically – but that's another story). Among the most interesting are the green ants.
More specifically,  Green Tree Ants (Oecophylla smaragdina). As the name implies, they're green, and they nest in trees, building softball-sized enclosures of dead leaves stitched together among living foliage. But you see a lot of them on the ground, on logs, rocks, mud, wherever, doing what ants do.
On one of my first field days, Michelle picked one up, gently gripped its head between thumb and index finger, and delicately licked the ant's butt. "Try it," she suggested, as she released her victim. "Tastes like citrus." Sure enough, when I cornered my own green ant, it shot an unexpected, strong taste of lime on my tongue, actually quite agreeable. I wondered what was passing through the insect's tiny mind. What would you do if a giant licked your backside? In this case, I had a quick answer as the ant latched its jaws on my finger before I set it free. Definitely wouldn't want to lick the wrong end of that one!
https://noahstrycker.com/wp-content/uploads/2017/05/transparentblacksubheader.png
0
0
Noah Strycker
https://noahstrycker.com/wp-content/uploads/2017/05/transparentblacksubheader.png
Noah Strycker
2010-03-26 15:09:15
2010-03-26 15:09:15
Green Ants