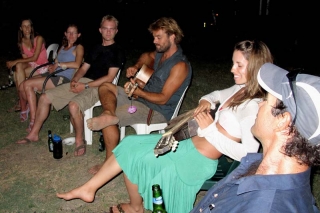 If you're from the U.S., you might not have heard of Xavier Rudd – one of Australia's most famous musicians. I've been a fan of his music since last September, when I went to one of his concerts near San Francisco. In fact, two of his tracks are in a playlist that I just listened to yesterday morning.
So imagine my total astonishment when Xavier Rudd himself washed in here yesterday afternoon! At first, all we heard was a garbled radio message from Swanie that "two tourists" had driven past all the CLOSED signs and were asking questions about Diamond Gorge. Swanie was about to tell them to turn right around and go home, but something clicked. Ten minutes later, everyone at Mornington knew we were hosting a rock star. It wasn't unlike having Johnny Cash unexpectedly knock on your front door, assuming you lived in the middle of the Sahara desert.
Turned out, Xavier was just traveling around this region with his girlfriend, and they decided to make the six-hour 4×4 drive to Mornington Station on a whim (closed signs notwithstanding; they even had to cut a cable-tied gate to get in here). After some initial confused communication, they stuck around to watch the sunset at Sir John Gorge and joined us around the pizza oven late into the evening, eating pizza, hanging out, and telling stories. Xavier was obviously ripped, and took in the scene as any famous musician/surfer dude should; when I explained to him, at one point, over a beer, how I had lived with penguins in Antarctica, Xavier sank deeper into his seat: "Far out, man," he replied. "What were the polar bears like?" Even if he had his wildlife facts a bit backwards, it was surreal to be talking to the celebrated musician under a starry sky, staring into the flames of the pizza oven, and feeling the heat of the day wafting up from red soil.
In the end, the singer grabbed a guitar from his rig, gave us a couple songs, and said his goodbyes just before midnight; he had to drive out to appear at a "Save the Kimberley" fundraising event the next day, then was off for an 8-month world tour of Australia, North America, and Europe. We told him not to run over any owls on the way out, gave him a piece of Jen's chocolate cake, and watched our random guest drive into the dark, back to surfing trips with Jack Johnson and gigs with Ani DiFranco. Here, though, he was just another tanned, Aussie surfer dude – maybe a bit out of place at a wildlife research camp, but welcomed nonetheless; and one random encounter I definitely won't forget!
https://noahstrycker.com/wp-content/uploads/2017/05/transparentblacksubheader.png
0
0
Noah Strycker
https://noahstrycker.com/wp-content/uploads/2017/05/transparentblacksubheader.png
Noah Strycker
2010-03-27 14:11:53
2010-03-27 14:28:25
Xavier Rudd Drops In