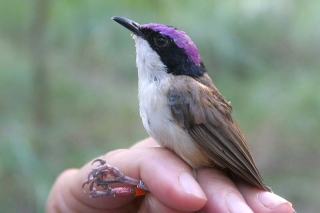 The Fairy-Wren crew got up at 4am this morning and, in predawn darkness, drove to a relatively distant territory along the Adcock River, where we hoped to catch one particular female Fairy-Wren which had been seen without a band last week (meaning it had just immigrated to this area).
We drove to the end of the 4×4 road, then hiked in the dark to reach our target just before sunrise, wading the river and bushwhacking through thick vegetation en route. Setting up four mist nets was relatively straightforward until Michelle slipped on a treacherous patch of mud by the second net and fell in the river, immersing up to her neck with her binoculars, field notebook, headlamp, and GPS. The clay bank was sheer enough she had to swim around to a different spot to haul out, dripping wet, with a wan grin; under a hot morning sun, though, it didn't take her long to dry out.
Meanwhile, the Fairy-Wrens were being wily today, flying around and over the nets without getting caught. After about four hours of this (and unintentionally catching five Yellow-tinted Honeyeaters, a Brown Honeyeater, a White-gaped Honeyeater, two Crimson Finches, and a Peaceful Dove, along with the male Fairy-Wren), Michelle finally managed to trap the targeted female by playing a recording of Fairy-Wren song. After a quick blood sample, band combination, set of measurements, and molt assessment, the bird was released, and we packed up for the long hike to lunch.
https://noahstrycker.com/wp-content/uploads/2017/05/transparentblacksubheader.png
0
0
Noah Strycker
https://noahstrycker.com/wp-content/uploads/2017/05/transparentblacksubheader.png
Noah Strycker
2010-03-24 18:12:41
2010-03-24 18:13:43
One Wily Female