Rocks, Crocs, and Electronic Carnage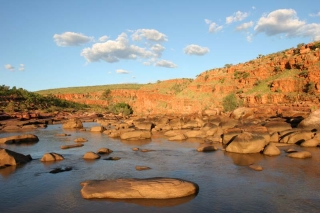 Jen and I set off at 6am this morning toward some old Aboriginal wall paintings accessible by a 10-kilometer off-trail hike. The directions were simple: where the road ends, start walking. Continue past two sets of rapids until you see a gorge open up on the right. Swim across the river, bushwhack up the fork, and the paintings will be obvious. Easy, right? I packed light snacks and a couple liters of water, expecting to be home by lunch.
In fact, we rolled in to camp at 7:30 pm, well after dark, just before the staff here was ready to start searching for us (they soon got distracted, though, by distress calls from two Mornington staffers in a broken-down vehicle halfway to Derby). The hike was much longer than anticipated, and Jen and I never found the paintings.
By 9am, I had drank all my water and resorted to creek water to avoid dangerous dehydration. Jen's camera became waterlogged when we crossed the river and shut down completely. We spent all morning searching sandstone rock faces for ancient artwork to no avail – either we missed the spot, or didn't go far enough. Meanwhile, though, Tin Can Gorge was full of enticing swimming holes, idyllic waterfalls, and other interesting bits seldom scanned by human eyes.
After regretfully turning around in early afternoon, we floated back downriver using inflated truck tires brought for the purpose. It was a nice way to travel except for the three freshwater crocodiles we spotted swimming alongside us; though they don't usually attack humans, two people have been seriously bitten by crocs at Mornington Station in the last two years, and the ones I saw today were at least 4 or 5 feet long.
When we finally hauled out downriver, just after sunset, I discovered that my drybag had failed and everything inside was soaked. This included my Canon 20D camera, Leica 8×32 binoculars, and cell phone. The camera and phone are probably toast (completely wet inside), but my binoculars survived their two-hour sloshing just fine. Luckily, I have a backup camera body. Unluckily, it was an expensive way to end the day. But still a worthwhile adventure – capped by a nice Australian Owlet-Nightjar sitting on the road after dark!
https://noahstrycker.com/wp-content/uploads/2017/05/transparentblacksubheader.png
0
0
Noah Strycker
https://noahstrycker.com/wp-content/uploads/2017/05/transparentblacksubheader.png
Noah Strycker
2010-03-21 22:45:00
2010-03-21 22:51:47
Rocks, Crocs, and Electronic Carnage