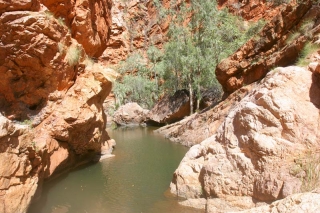 I was doing field work yesterday morning in a rough section along the Adcock River, minding my own business (and a pair of Purple-crowned Fairy-Wrens), when a guy in a green shirt popped out from behind a bush. He looked a bit nonplussed.
"What are you seeing?" I asked, wondering where he came from.
"Ah, some bird, looked like a kingfisher," he said. "Here, take a look." He showed me a photo displayed on the back of his digital camera.
"Nice – it's a pair of Rainbow Bee-Eaters," I said (close enough). "Where are you from?"
Turned out he was from New Zealand (shoulda guessed, green shirt), on a 3-week holiday with his wife, had driven half of Australia already, was camping in an RV, and was headed for a day at Dimond Gorge. His name was Warren. We got talking about New Zealand, since I'd been there last year, and I mentioned I'd climbed a prominence called Avalanche Peak at Arthur's Pass, inland of Christchurch.
"Yeah, I climbed that once," he said. "When I was six years old, my dad took me up there. Mind you," (he scratched his head) "that was sixty years ago."
With that, Warren disappeared into the vegetation, making his way back to the river crossing. The tourist season here has officially begun – Mornington Station boasts a 4-star restaurant (regular entrees are $49!), safari tents ($300/night!), campground, tours, etc. It's an expensive place to vacation; punters get charged for everything (just to drive down the driveway commands a $25 "road fee") but at least people can experience this place without actually working here. Me, I'm happy to get paid (however little) to live in such a place – so much better than being a tourist!
https://noahstrycker.com/wp-content/uploads/2017/05/transparentblacksubheader.png
0
0
Noah Strycker
https://noahstrycker.com/wp-content/uploads/2017/05/transparentblacksubheader.png
Noah Strycker
2010-05-12 18:03:23
2010-05-12 18:04:53
Kiwi Conversation