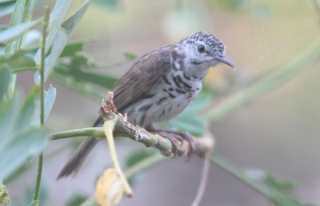 Apologies for the dearth of updates this week. We're still in a cloudy, sticky, humid weather pattern (more rain forecast through this weekend), and our internet has been quite unreliable – crikey!
Anyway things are going good at Mornington Station. I was out for an evening run day before yesterday and, while hurtling down the dirt track, heard a slithering noise just behind me. Looked over my shoulder just in time to see a very angry, meter-long Mulga snake zipping toward the grass, head raised in agitation – I'd missed stomping its tail by mere inches. That's the one that, if it bites you, gives you about five hours to live – and I was miles from the station. Got the adrenaline going a bit! Tegan very nearly stepped on one yesterday while wearing flip flops, so I'm not the only one taunting snakes around here.
A group of 60 tourists with a charity group called the Variety Club arrived yesterday to be wined, dined, and accommodated in safari tents. It's a lot to put up with for the hospitality staff (all hands on deck kind of thing), but the group's total bill for one night's stay was $11,000 – a nice big check for the Wildlife Conservancy! (Not to mention the $2,000+ the group apparently spent at the bar alone, or the additional $12,000 shelled out at a charity auction after dinner.) Meanwhile, tourists are wandering around Mornington Station like zombies on patrol as we head into peak season here. Interesting to have a bit of extra company during my field work.
https://noahstrycker.com/wp-content/uploads/2017/05/transparentblacksubheader.png
0
0
Noah Strycker
https://noahstrycker.com/wp-content/uploads/2017/05/transparentblacksubheader.png
Noah Strycker
2010-05-27 11:38:51
2010-05-28 07:08:29
Mulga Underfoot