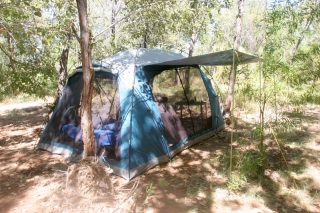 With an influx of new researchers and hospitality staff last week, I finally got kicked out of my room. Like the majority of Mornington's population, I now live in a tent.
But what a tent! I'm used to lightweight, backpacking-style tents, but when Michelle mentioned some kind of montrosity wedged in the rafters of the storage area, I was curious. Turned out to be an enormous car-camping tent. Perfect! Its floor is 4 x 3.2 meters (13.1 x 10.5 feet) and the entire space has a ceiling so high I can stand, stretch my arms over my head, and still not touch the roof. Every wall has a foldable flap, exposing mesh all the way around. The tent even has front and back entrances – seriously, it's a castle!
I moved in a full-size bed, with frame and mattress, which fits in one corner. On the other side, I arranged two shelving units and a chair, leaving plenty of space to walk around in between. During the day, I can sit in the chair and look at birds (including a resident pair of fairy-wrens) from within my mosquito-proof home. At night, I fall asleep to the thumping of wallabies and distant choruses of howling dingoes. And now it's getting down to 18 C (65 F) in the wee hours, it's not too hot to sleep without a fan. I'm glad to call this place home.
https://noahstrycker.com/wp-content/uploads/2017/05/transparentblacksubheader.png
0
0
Noah Strycker
https://noahstrycker.com/wp-content/uploads/2017/05/transparentblacksubheader.png
Noah Strycker
2010-05-06 12:40:45
2010-05-06 12:40:45
Welcome To My Castle