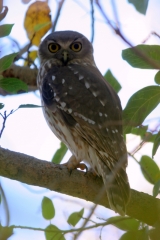 At night, from my tent, I typically hear all sorts of noises: howling dingoes, hopping wallabies, screaming Bush Stone-Curlews, gruff Boobook owls, and yapping Barking Owls. It's a jungle out there – or, at least, a tropical savanna.
Most of those things are hard to find during the day, though, so I've been happy to see the same Barking Owl twice this week during fairy-wren surveys along the north end of Annie Creek. It probably wasn't quite as happy to see me, since I flushed it from its nap, but there you have it. Even got a photo to prove it.
I have now managed to see almost all the nocturnal birds around here on day roosts. Spend enough time outside, and you'll flush them from hiding: Spotted Nightjar, Australian Owlet-Nightjar, Tawny Frogmouth, Southern Boobook, and Barking Owl. The only night bird I haven't yet seen in daylight is the stone-curlew; they must hide exceedingly well, since they're common enough on the roads after dark.
https://noahstrycker.com/wp-content/uploads/2017/05/transparentblacksubheader.png
0
0
Noah Strycker
https://noahstrycker.com/wp-content/uploads/2017/05/transparentblacksubheader.png
Noah Strycker
2010-06-23 13:12:11
2010-06-23 13:12:11
Barking Owls