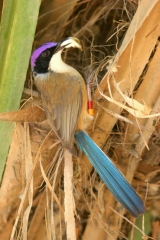 Yesterday was freakishly cold here – it only reached 19.5 C (67 F), with heavy clouds and scattered drizzle throughout the day. It might have been the coldest day in several years at Mornington. Today, though, it's back to the mid-30s (mid-90s), more typical winter weather, with the usual blazing sunshine.
Which is good because Michelle, Joey and I are headed out for a 3-day survey of a distant section of the Adcock River this weekend, and we're planning on sleeping out (no tents). Should be excellent.
Even though it's winter, a few Purple-crowned Fairy-Wrens are nesting, and we've found several nests in the last couple weeks. They probably got into gear after the extended rainy weather in late May, which really greened up the landscape. Nice to see green spinifex against red termite mounds – perfect contrast.
https://noahstrycker.com/wp-content/uploads/2017/05/transparentblacksubheader.png
0
0
Noah Strycker
https://noahstrycker.com/wp-content/uploads/2017/05/transparentblacksubheader.png
Noah Strycker
2010-07-02 15:23:24
2010-07-02 15:23:24
Fairy-Wren Nests