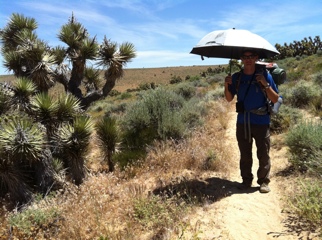 Yesterday's cool mountains were just a tease; today the trail plunged right back into the Mojave furnace, and I spent 23 miles slogging through pea-gravel sand without shade besides the occasional Joshua Tree or flyover fighter jet.
I crawled under a Joshua for two hours in mid-afternoon, and quickly discovered its soft-looking leaves might as well be bristling steak knives, drawing blood wherever they poked. It sure gave me extra appreciation for the Loggerhead Shrike nest I found in a Joshua Tree earlier in the day, holding two well-protected nestlings. How the birds manage not to skewer their eyes out, I'll never understand.
I should hit Kennedy Meadows on June 22nd, where the desert officially ends and the Sierras begin, at mile 700. Bring on the snow – I'm ready for it.
https://noahstrycker.com/wp-content/uploads/2017/05/transparentblacksubheader.png
0
0
Noah Strycker
https://noahstrycker.com/wp-content/uploads/2017/05/transparentblacksubheader.png
Noah Strycker
2011-06-17 16:31:02
2011-06-17 16:33:32
Sand, Sun, Rocks… Repeat