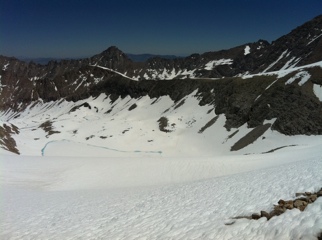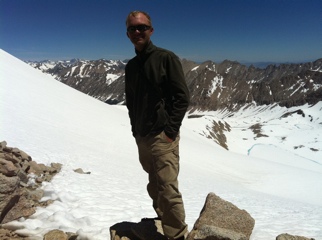 I crossed the highest point on the PCT today, Forester Pass at about 13,200 feet, and it delivered. Several of us made the climb. Except for a few exposed switchbacks, the next 10 miles were buried in heavy, continuous snow.
The ascent was straightforward but steep, and I made full use of traction spikes and ice axe to keep from slipping into oblivion. Near the top, a step-by-step traverse across a 30-foot-wide, extremely steep snow chute promised nightmares for anyone afraid of heights, but the view was incredible!
Our real work, though, began on the descent. We glissaded (slid feet first) down some long, steep snowfields to reach a frozen lake on the north side of the pass, then trudged through increasingly soft snow toward a forested valley below to look for the trail. At one point Little Bug went in up to her waist and had to be dug out; postholing in slush is no fun. By day's end, we were worn out from the effort.
Clouds are rolling in and a ranger told some other hikers today of a possible impending storm. I am battened down, hoping it blows over and carefully weighing my remaining food. Slow progress this week means strict rations for the next few days; man, could I go for a burger…
https://noahstrycker.com/wp-content/uploads/2017/05/transparentblacksubheader.png
0
0
Noah Strycker
https://noahstrycker.com/wp-content/uploads/2017/05/transparentblacksubheader.png
Noah Strycker
2011-06-28 19:35:40
2011-06-28 19:35:40
Forester Pass