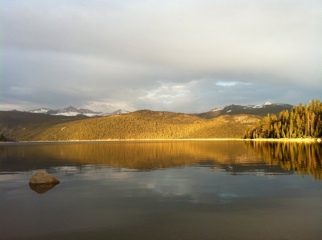 After 13 days of the most intense hiking I have ever done, 175 miles through the toughest terrain on the PCT (with a side trip to climb Mt Whitney), I made it to Vermilion Valley this morning in time to catch the ferry across Lake Edison, and spent the rest of the day gorging on pancakes and burritos. Civilization!
Going almost two weeks without resupplying through the high Sierras, especially this year, was crazy, but I'm so glad I did it. Lots of hikers are skipping this section or trying to "flip" to another piece of trail after getting psyched out on hype, scared of all the snow, but they're missing out; the Sierras are really incredible, probably the most rewarding part of this whole experience. Why hike the trail if you're gonna skip its crux?
For me, the mountains ain't over; I keep hearing about lots more snow and high rivers in Yosemite, a few days north. Apologies for the delayed entries this week – I haven't had cell service in eight days, but will continue to post whenever possible. Happy Fourth of July!
https://noahstrycker.com/wp-content/uploads/2017/05/transparentblacksubheader.png
0
0
Noah Strycker
https://noahstrycker.com/wp-content/uploads/2017/05/transparentblacksubheader.png
Noah Strycker
2011-07-04 18:48:49
2011-07-04 18:48:49
Vermilion Valley Resort