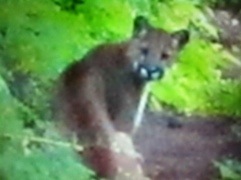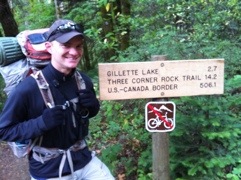 While hiking alone early this afternoon, I rounded a bend to find a Mountain Lion sitting calmly on the trail about 40 feet away. The big cat took a minute to notice, then, unfazed, just gazed at me curiously while I stared right back in amazement. What to do?
I took some photos, then, thinking vaguely like a matador, unpacked my silver umbrella in case the kitty was feeling feisty (no big deal). And… well, we kept staring at each other, neither of us budging, for almost ten full minutes. I checked out every whisker through my new Leica binoculars – awesome! Finally he looked away, stretched, rose to his feet, and padded silently down the trail, quickly disappearing around the next corner. You couldn't ask for a much closer encounter – definitely more satisfying than my first one, back in northern California. Today, I beat that Mountain Lion in a staring contest, face to face.
Otherwise, I hiked 30.0 miles, climbed 5,000 feet and descended nearly as much, and camped by a sweet river with Sniper and Todd. I have now walked farther than the length of the entire Appalachian Trail – but still have 500 miles to go. It feels good to be in Washington.
https://noahstrycker.com/wp-content/uploads/2017/05/transparentblacksubheader.png
0
0
Noah Strycker
https://noahstrycker.com/wp-content/uploads/2017/05/transparentblacksubheader.png
Noah Strycker
2011-08-31 20:00:54
2011-08-31 20:00:54
Mountain Lion #2