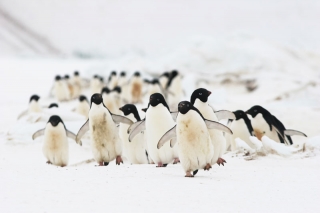 "See that table, in the corner?" asked Pat, President of the Grants Pass Rotary club in southern Oregon, just after lunch today. "They're a little hard of hearing back there. If they hold up a giant sign that says LOUDER, lean in to the microphone. They're brutal."
I was about to give my penguin slideshow for the 20th time this year. I've talked at retirement homes, Audubon and Natural History societies, bookstores, and college classes, but this was my first service club. They run things a bit different, as it turns out.
"We have some business to discuss before your show," said Pat, "so grab a plate of food, sit down, and enjoy the meeting."
The room, adjoining a pub in Grants Pass, was packed – 140 people. My grandparents, who live nearby, sat at reserved places near the front of the room. When Pat gave me the signal, I took a hammer and hit a large bell to begin proceedings.
I'd been asked to sign a pack of penguin-themed balloons, bought at the dollar store, which were given to the first person who could guess the name of another club member after hearing a quote they'd posted on Facebook. In the midst of this, the table in the corner raised their LOUDER sign. A new member was inducted to the club and lectured about how to get rid of his "red badge." Someone gave a brief and direct speech concerning the eradication of polio disease. Songs were sung, and standing ovations were given.
My talk went really well, people laughed in all the right places, and I sold and signed about 30 copies of my book – all that I had left in stock! Guess I need to order some more, since I have a few more shows to do before Christmas ;)
(If you're curious, you can check out the tour schedule.)
https://noahstrycker.com/wp-content/uploads/2017/05/transparentblacksubheader.png
0
0
Noah Strycker
https://noahstrycker.com/wp-content/uploads/2017/05/transparentblacksubheader.png
Noah Strycker
2011-11-16 21:05:50
2011-11-17 09:07:35
Penguins at the Rotary