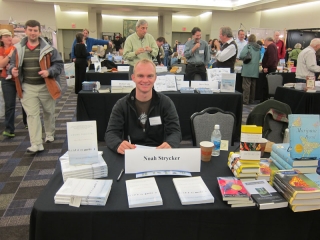 At Portland's Wild Arts festival yesterday, I shared a small table with Robert Pyle, that internationally known butterfly expert, conservationist, and author. We spent almost five hours signing books; I sat behind a glossy stack of
Among Penguins
, while Bob's 15 or 20 titles formed an impressive mountain covering his side of the desk. Along with a dozen or two other authors in the room, we were busy. The place was packed with hundreds of people.
A woman with her small child approached my side of the table, looking worried. "I told my kid that s-a-n-t-a would be here, but I guess it's too early in the season for someone to be dressed up," she explained. "Do you think Bob would mind playing along a bit? He's the closest lookalike I can find." I glanced over at the butterfly expert, who bore a striking resemblance to Kenny Rogers with a big, fluffy white beard, as he signed a book for someone else. "Sure," I said. "Why not?"
Another lady approached and grabbed a copy of Among Penguins. "Would this be suitable for an 11-year-old?" she asked, flipping through the photo section in the middle. I answered, honestly, that I didn't know; maybe she could read the first chapter to get a feel for the writing. After a while, she looked up. "Is there any sex in this book?" No, I said, nothing like that. She bought a copy and went away smiling.
Half an hour later, a different woman stopped to ask, "Would this book be suitable for a 12-year-old in the seventh grade?" I grinned. "Well, someone else just bought a copy for their 11-year-old…" I explained.
Jay and Susan, birder friends of mine from Portland, stopped by to say hi and gave me an early Christmas present: a foot-long, shimmery holographic ruler of penguins which seemed to walk and flap their wings as you twisted the ruler. I stuck it in front of my name plate propped on the table, and, for the rest of the day, random people kept stopping to admire it. "Look at that, honey! Penguins!"
Bob, the butterfly guy, leaned over after we'd been signing books for about two hours. "Would you inscribe one to Bob and Thea?" he asked. It was nice gesture, and I passed him a signed copy of Among Penguins. About an hour later, he leaned over again. "I can tell that I'm going to enjoy this, after listening to you talk about it for the last three hours!"
It was fun to chat with people about penguins all day. The Wild Arts festival was even bigger than I'd imagined, and well-organized. Volunteers constantly circulated among the author tables offering water, coffee, or to swap in if we needed a break. The artists and authors were an awesome group of people. I ended up selling 25 or 30 copies of my book. Great success!
https://noahstrycker.com/wp-content/uploads/2017/05/transparentblacksubheader.png
0
0
Noah Strycker
https://noahstrycker.com/wp-content/uploads/2017/05/transparentblacksubheader.png
Noah Strycker
2011-11-21 11:11:38
2011-11-22 11:11:59
Wild Book Signing