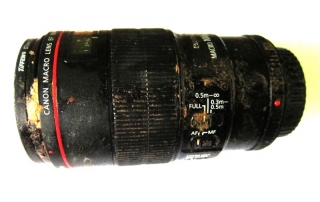 On my first full day off at Tiputini, I decided to climb the canopy tower at sunrise. A set of rickety metal scaffolding ascends to a platform in the fork of a huge ceiba tree which towers over the surrounding jungle, 130 feet above the ground – it's a great spot for canopy birds and monkeys.
And rain, as it turned out. No sooner had I switched off my headlamp then a downpour ripped out of nowhere. I huddled on my high perch under an umbrella and watched the sodden sunrise (and a Paradise Tanager) for half an hour before giving up. Umbrella in one hand, I grabbed my pack to climb down.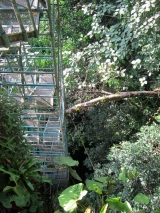 But one zipper wasn't quite zipped and, as I lifted the backpack to my shoulder, my 100mm image-stabilized lens slipped out at just the wrong moment. I watched in horror as my prized macro lens arced gracefully over the handrail and flipped slowly through space before gravity kicked in. Several heavy heartbeats later, a wet thud echoed up from the forest floor, 130 feet below.
I raced down 118 steps of scaffolding and searched the ground for a few minutes before discovering my camera lens a few inches from one of the tower's concrete support pads, lens cap about 10 feet away. I expected it to be smashed to smithereens but the lens was incredibly intact for a high-tech meteorite. The glass wasn't even scratched; it must have landed in a patch of mud or bounced through some leaves on the way down. Amazingly, it survived a fall that probably would have killed me.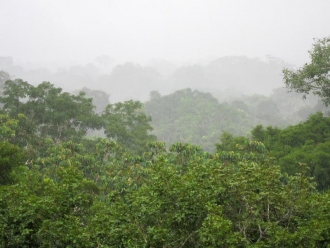 The focus and image stabilizer, though, were knocked loose, so, for now, I'll have to hope it can be fixed when I get home. Oh well. After dropping two different camera bodies in Australian rivers last year, drowning another one in a Costa Rican thunderstorm last winter, and losing my binoculars on the Pacific Crest Trail this summer, a lens isn't such a big deal. But it is expensive…
I spent the rest of the day birding and found some goodies: Blue-and-yellow, Scarlet, and Red-and-green Macaws; a Long-billed Woodcreeper; and a pair of Slender-footed Tyrannulets building a nest. Oh, and I saw my 2,000th life bird this week – a Yellow-billed Nunbird. Makes it all worth it!
https://noahstrycker.com/wp-content/uploads/2017/05/transparentblacksubheader.png
0
0
Noah Strycker
https://noahstrycker.com/wp-content/uploads/2017/05/transparentblacksubheader.png
Noah Strycker
2012-01-17 17:28:20
2012-01-17 17:39:51
Dropped From 130 Feet