Announcing… My Next Book!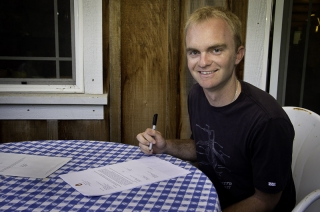 Back in September, I got an email out of the blue from an editor at Riverhead Press, an imprint of Penguin Books in New York (the largest publisher in the world). "I'm looking for a writer for a book on birds," she wrote, and "I think you'd be great for it."
She had been directed to my website after reading several posts I'd written for the American Birding Association's blog, and was apparently impressed enough with my writing to ask for a book proposal in a brief phone conversation. I wrote an introduction, a couple of sample chapters, and an outline; Riverhead's editors accepted it, and they offered a generous contract. Just like that!
To negotiate the details, I was advised to enlist the help of a literary agent. My first book, "Among Penguins," was published by a much smaller university press which didn't require negotiation, so this was a new step. Happily, I connected with the same agent who represents David Sibley, Pete Dunne, and other well-known bird authors, and, over the last couple of months, he has helped streamline the process so that today I sat down, pen in hand, and signed four copies of the 11-page contract.
It's so exciting to have my first major book deal!
Riverhead is a well-known press and has published several bestsellers including "The Kite Runner," which augurs well for the success of this project.
The book, tentatively titled "Bird World," will be an accessible and fun investigation of bird behavior, from homing instinct and pecking order to unexpected stories of bird intelligence. Basically: Birds are cool and fascinating. Get ready to sit back and be entertained…
The book will probably be released about two years from now (since I still have to write most of it…), first in hardcover, then in paperback. Stay tuned.
I had a great winter in Ecuador, ended up seeing almost 500 species of birds in three months in the jungle. Now I am home in Oregon and looking forward to spending most of 2012 on this project – a whole new adventure. I do have more exotic trips planned, but, for now, am totally jazzed about this book. Onward!
https://noahstrycker.com/wp-content/uploads/2017/05/transparentblacksubheader.png
0
0
Noah Strycker
https://noahstrycker.com/wp-content/uploads/2017/05/transparentblacksubheader.png
Noah Strycker
2012-05-09 14:37:56
2012-05-09 14:54:27
Announcing… My Next Book!