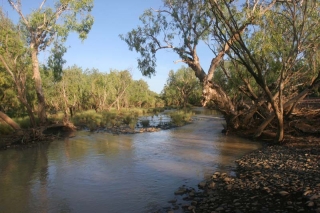 After 22 days without being replenished, we finally received a new shipment of food this week – $1,700 of groceries, to be exact. For me, after nearly running out completely, it was like Christmas all over!
The system here is simple. Every couple of weeks, everyone at Mornington fills out an Excel spreadsheet with what they'd like from the store. It all goes in one big order, which, on arrival, is carefully doled out according to who requested what. Overall, it runs pretty smooth.
Trouble is, though, you don't know how much anything costs until after you've bought it. So, I was a bit surprised to find that Gatorade powder mixes were $12 each; with five of them, I spent $60 on Gatorade alone! Same goes for sports bars, which are apparently $5 each, so I threw down approximately $50 on Powerbars.
The day before our order was processed, the grocery store rang up Mornington Station with a few questions, most of them about items I'd requested. They were very confused about "peanut butter flavored snack bars," of which I'd ordered 20, until the clerk learned that I was American, and burst out laughing over the phone. "That explains it!" she cackled. "Oh, and what are black beans?" Australians, it seems, haven't caught on to black beans at all, and don't even know what they are. Overall, though, I was very pleased to restock my supplies. Let the eating begin!
https://noahstrycker.com/wp-content/uploads/2017/05/transparentblacksubheader.png
0
0
Noah Strycker
https://noahstrycker.com/wp-content/uploads/2017/05/transparentblacksubheader.png
Noah Strycker
2010-03-31 21:27:40
2010-03-31 23:31:30
Food Fulfilled