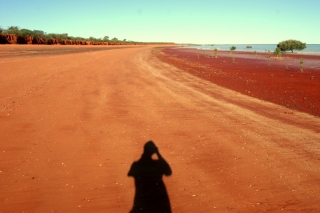 All right, it's been a couple weeks. I know. This site hasn't been updated in a while. But a lot has been happening.
First, my season working with Purple-crowned Fairy-Wrens has ended. After five months at Mornington Station, I'm now sitting in a hostel in Broome, on the northwest Australian coast. Michelle drove me out. The six-hour trip was uneventful, except for the two vehicles we passed going the other way (one was our handyman coming back from a town run) and a near-miss with a suicidal wallaby. I've seen my first paved road (though no traffic lights yet), slept in my first real bed, and used my credit card for the first time since early March. It's definitely weird to see unfamiliar people everywhere after so long in such a tight field station. Sort of makes me miss the wilderness already… It's hard to transition out of a place with so many great friends and memories.
Second, I've finished writing my first book! If I haven't posted here in a while, it's because my energy has been focused into the final draft of Among Penguins: A Bird Man in Antarctica. It'll be out next spring, published by Oregon State University Press, with a color photo insert in the middle – the story of life in a penguin colony and the general craziness of Antarctica.
Third, I've been planning my next adventures. This fall, I've been hired to work on the Farallon Islands, a group of rocks off the coast of San Francisco, from September to December. The Farallones, remote enough that only biologists are allowed to land, are a migratory bird trap and the world's densest Great White Shark concentration. I'll be banding songbirds and watching for shark attacks while perched on a lighthouse and living on a 60-acre windswept rock with only two trees, hoping for rarities to drop from the sky. Should be good.
I've also decided to hike the entire 2,650-mile Pacific Crest Trail, from Mexico to Canada, next summer. More on that later.
More immediately, on August 15th I'm going to run the Adelaide Marathon in southern Australia before flying home to the U.S. the same afternoon. Between now and then, I'll spend about a week birding in southwest Australia. So lots to look forward to.
I will keep this blog updated as things progress. Internet access will be intermittent over the next couple weeks, but I'll do my best! Cheers!
https://noahstrycker.com/wp-content/uploads/2017/05/transparentblacksubheader.png
0
0
Noah Strycker
https://noahstrycker.com/wp-content/uploads/2017/05/transparentblacksubheader.png
Noah Strycker
2010-08-06 19:40:28
2010-08-06 19:41:37
Onward