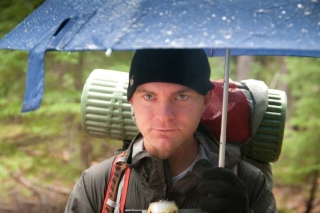 A couple weeks ago I stood on the shoulder of Highway 58 at Willamette Pass in central Oregon, staring south. It was a clear morning, and, if there weren't so many trees, I could have seen all the way past Diamond Peak, Mount Thielsen, and Crater Lake, or even the Sky Lakes, 130 miles away. But I'd decided to experience the scenery the hard way. I hefted my 40-pound pack, made plans to connect with my parents five days later, and walked into the wilderness.
In August I finished my five-month stay in northwest Australia. If you've never been, put Mornington Wildlife Sanctuary on your bucket list (or at least Google it, or check out some of my older blog entries or galleries). After leaving Mornington, I ran the Adelaide Marathon in southeast Australia (3 hrs 41 min) before boarding an international flight the same afternoon. Twenty hours later (or four hours earlier, depending on how you look at it) I was home in Oregon. Then I hit the trail.
It took me five days to cover 130 miles, averaging 26 miles/day, along the Pacific Crest Trail from Willamette Pass to Sky Lakes. The weather deteriorated and I walked the last 60 miles through heavy rain and snow squalls. Really, this hike was just a warm-up: the entire Pacific Crest Trail stretches 2,650 miles from Mexico to Canada, through the length of California, Oregon, and Washington, and I'm considering the whole shebang next summer. The question is, can I hack it?
I'll have plenty of time for consideration while I sit on a windswept rock this fall. Tomorrow I'm headed to Southeast Farallon Island, a 60-acre outcrop about 20 miles (a five-hour yacht trip) from the Golden Gate Bridge. It's famous for Great White Sharks, strange birds, strange history, and bad weather. Though technically within San Francisco city limits, few urbanites have heard of the spot. Sounds good; I'll be there until December. Can't wait to drop in!
https://noahstrycker.com/wp-content/uploads/2017/05/transparentblacksubheader.png
0
0
Noah Strycker
https://noahstrycker.com/wp-content/uploads/2017/05/transparentblacksubheader.png
Noah Strycker
2010-09-20 09:32:24
2010-09-20 09:32:24
Shakedown