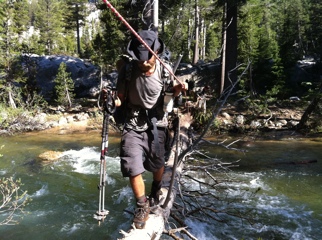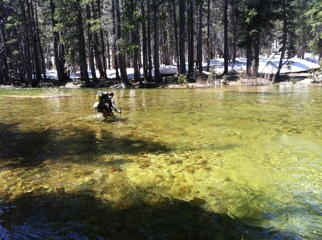 These mountains are wearing me like ice on granite. Another absolutely brutal day today had me feeling a bit less invincible than usual by dinnertime.
Quake, Unload, Honeybuzz and I lost the trail directly out of camp under five feet of continuous snow and spent a frustrating hour downclimbing a series of steep cliffs and waterfalls to reach a canyon bottom, where two thigh-deep creek fords awaited. Then we climbed a pass, where the trail disappeared again under snow, and then again we dropped straight down into a steep-sided gorge. Traversing down upper Kerrick Canyon, it took an hour to inch just half a mile across incredibly steep, icy snow slopes which ran straight into a raging river below.
By the time we found exposed trail it was climbing a steep ridge, and the descent down the back side was so rough I ripped a 2-inch hole in the mesh of my shoe. At that point we hit Stubblefield Canyon to discover a river eight feet deep and running fast blocking the trail. Ain't gonna get across that today, so we camped after a tough 14 miles, hoping the water drops by morning.
https://noahstrycker.com/wp-content/uploads/2017/05/transparentblacksubheader.png
0
0
Noah Strycker
https://noahstrycker.com/wp-content/uploads/2017/05/transparentblacksubheader.png
Noah Strycker
2011-07-10 20:00:35
2011-07-10 20:00:35
Slogging North