Lava, Lightning, & A Legend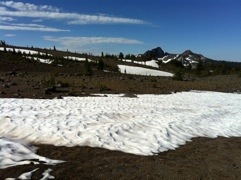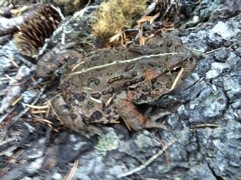 Lots of interesting scenery today as I walked 24.4 miles past alpine terrain along the Three Sisters, across Highway 242 at McKenzie Pass, and through several miles of lava fields to the base of Mount Washington. Some trail angels at Lava Camp fed me ravioli, chocolate, and soda while I waited out a thunderstorm there in late afternoon – thanks guys!
Approaching dusk, I recognized a southbound hiker from PCT legend – Scott Williamson (AKA Bink), a thirty-something tree-trimmer from Truckee who has, among other things, hiked the trail 14 times, yo-yo'd it twice, and set the all-time speed record two years ago (62 days). He stopped to chat for a few minutes, saying he left Canada on August 8, just 18 days ago (!), and is on pace to finish the entire trail, southbound, in 65 days, averaging 40 miles/day (today he did 43). Makes my four-month, 22 mile/day average seem mighty slow by comparison!
https://noahstrycker.com/wp-content/uploads/2017/05/transparentblacksubheader.png
0
0
Noah Strycker
https://noahstrycker.com/wp-content/uploads/2017/05/transparentblacksubheader.png
Noah Strycker
2011-08-24 20:25:28
2011-08-24 20:25:28
Lava, Lightning, & A Legend