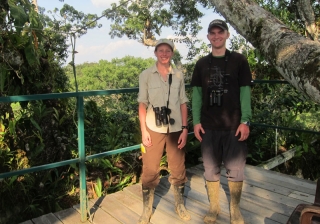 The game: To find as many species of birds as possible in one day at Tiputini.
The rules: Each bird must be positively identified by sight or sound.
The players: Abby and me.
Pretty simple, really.
Abby and I got up at 3 am on Friday to do an all-out "Big Day" around the Tiputini trail system with the goal of finding at least 200 species of birds before dinner. A worthy challenge, but was it even possible?
I'm no stranger to Big Days, having done more than a dozen of them in my home state of Oregon. Several years ago, my team set the all-time Oregon Big Day record at 219 species by driving a well-scouted 750 miles across the state between 12:01 am and 11:47 pm. But I've never tried one in the tropics before, and things are a bit different down here.
Most important, Abby and I wouldn't use any transportation besides our own feet. No cars, no bikes, no boats. Instead of driving 750 miles, we'd walk a 10-mile loop. That's it.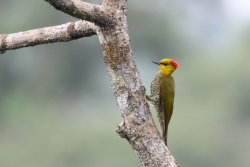 Also, the strategy is a bit different in the tropics. Birds here are generally rarer and more difficult to observe. That means you've really got to know your bird songs for any chance at a high tally, since "heard-only" sightings are within the rules. At the end of the day, about two-thirds of our list would be by ear alone.
We hiked into the forest by headlamp, three hours before dawn, and kicked things off with some good nocturnal birds: Spectacled, Crested, Mottled, Black-banded, and Tawny-bellied Screech-Owls; Nocturnal and Salvin's Curassows; Ocellated Poorwill; and Common and Great Potoos. By six a.m. we were up to a respectable 15 species.
Then the sun came up, a Laughing Falcon and Lined Forest-Falcon began calling, and, suddenly, we were recording new ticks faster than we could write them down. Abby and I could barely keep up with the overwhelming tropical dawn chorus. We hit 100 species at 7:20, highlighted by a tiny Short-tailed Pygmy-Tyrant.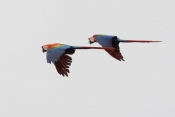 At 11:30, we hit 150.
Then the daytime doldrums set in. On a sunny day in the Amazon rainforest, bird activity shuts down by mid-morning, and we had to scrape for new sightings. Abby and I trekked the most remote trail at Tiputini, called Maquisapa, sweating hard in the heat and humidity, eating one foil-wrapped cheese sandwich after another. At one point we both tried to cross a log bridge at the same time and, when it suddenly collapsed, both ended up in the creek below along with a surprised bat that had been roosting on the underside of the bridge. A Great Jacamar was a bonus, but where were the Variegated Tinamous? Could we make it to dinner without dropping from exhaustion?
Luckily, we had a big card left to play—130 feet tall, to be exact. Tiputini's canopy tower, built around a giant Ceiba tree, promised a whole bunch of hard-to-get birds in late afternoon. Abby and I climbed into a tropical paradise full of birds, including in-your-face Paradise Tanagers and, at 3:30 pm, our 200th species of the day: a Black-bellied Thorntail.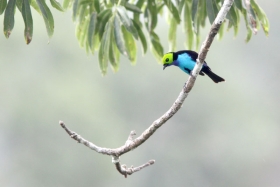 High fives all around and we kept racking up new species, including a rare Fiery Topaz—perhaps the most spectacular hummingbird I have ever seen. As dusk fell, Abby and I sat along the Tiputini River and watched Short-tailed Nighthawks chase each other against the sunset. We'd been birding for 15 hours straight and looked back on an incredible streak. When a Ringed Kingfisher swooped past just before dark, Abby tallied our list: the kingfisher was #233.
I had never seen that many species of birds in one day before, and neither had Abby. Very few people in the world have ever exceeded that total, much less entirely on foot. We called it good, sat down to a satisfying dinner at 7 pm, and were asleep by 8:30. I dreamed all night of tinamous and kingfishers.
https://noahstrycker.com/wp-content/uploads/2017/05/transparentblacksubheader.png
0
0
Noah Strycker
https://noahstrycker.com/wp-content/uploads/2017/05/transparentblacksubheader.png
Noah Strycker
2012-02-19 19:03:41
2012-02-19 19:03:41
Biggest Big Day