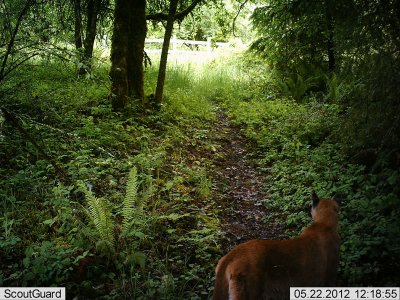 About a month ago, on a whim, I bought two remote cameras and put them up in my backyard.
I had been inspired by the Jaguar camera trap project at Tiputini Biodiversity Station in eastern Ecuador. Jaguars are tough to study, so researchers at Tiputini have set out motion-sensing cameras in the jungle for the past few years. They've accumulated some incredible pictures of cats and other rare Amazonian wildlife.
It got me wondering what might be lurking in the forest next to my house here in Oregon. I live about five miles east of Creswell (south of Eugene), bordering Weyerhauser and BLM timber properties; bears occasionally wander through the yard, and who knows what else? I've seen coyote, elk, and bobcat near my house, any of which would theoretically be possible in the backyard.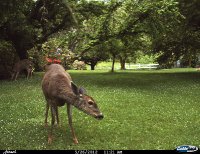 The cameras are marketed toward trophy deer hunters. They use motion sensors to take a picture whenever something walks in front of the lens. These days, the technology is pretty advanced: a good-quality game camera will withstand cold and moisture, snap a photo within a second of detecting motion, record color pictures with a flash after dark, and take up to 50,000 images on one set of batteries. Mine arrived packaged in camouflaged plastic with testimonials from celebrity hunters splashed across the front. Strap one to a tree, leave it for a while, then download the resulting images; you'll know if there's a big-antlered buck out there, or anything else large enough to trip the shutter.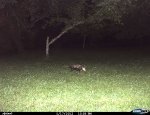 Easy enough. I loaded my two cameras with batteries, posted them in likely-looking spots near the edge of my backyard, and went off to southern California to vacation in the desert for a couple of weeks.
The cameras clicked away in my absence, taking several dozen photos over the two-week period. There were lots of deer, as expected. I also got a photo of a feral cat, several squirrels, and an opossum that appeared at 10:41 pm on May 6, 10:32 pm on May 14, and 10:28 pm on May 17 – a true creature of habit.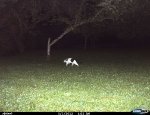 When I clicked through to the last couple of frames, though, I gasped. There, undeniably recorded by one of my new cameras, stood a cougar (mountain lion) – a mere hundred yards from my back door, just after noon on a Tuesday! In the picture, it is staring straight toward my house (invisible behind a fence and some trees). After I got over the shock, I showed the photo to a contractor who was at the house working on a remodeling project on that particular day, probably eating lunch on the back porch at the instant the photo was taken. It's likely that the cougar was listening to his conversation.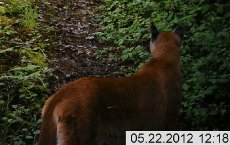 In 26 years – my entire life – of living here, I've never seen, heard, or found signs of cougars in the woods, though I've suspected that they're around.
This just continues my streak of good luck with big cats. In the past 12 months I've run into two different mountain lions while hiking the Pacific Crest Trail and had close visits with a Margay and a Jaguar in the jungles of Ecuador, all one-on-one encounters in the forest. Now, it seems, the cats are coming to me. Makes you wonder what else is lurking out there…